How I spent my Spring vacation
Tuesday, February 25, 2003
Escaping…
Dawn broke with a brilliant sun lighting up the day. After gray skies for the past 48 hours, a view outside revealed the challenge. Two to three inches of ice covered the roads, lawns, and houses in a city unaccustomed to dealing with wintry weather.
The drive to the airport would be long and treacherous, so my traveling friend from work, Lesley, called a shuttle company to come and pick her up. She hoped the airport would be open by flight time. Leaving home early at 2:00PM, Richard would drop me off ahead of time to meet Lesley. An hour before shuttle time, Lesley phoned to say the shuttle had slid off the road into a ditch and it would not be coming to pick her up. There was no back-up shuttle.
Lesley's mom Sheila and a friend Ruth arrived in Dallas from Canada a few days earlier to get away from the blizzards that had left them isolated. They also planned to tour here and take care of Lesley's schnauzer while she will be gone for over three weeks. So, this was Angie's (the dog) first outing, so-to-speak. The three of them, Sheila, Ruth, and Angie accepted the challenge to drive Lesley the 20 miles to my home to catch a ride with Richard to the airport. An hour of creeping through the ice and slippery roads eventually delivered Lesley to my doorstep about 2:20PM. Sheila, Ruth, and Angie immediately headed back to Frisco.
Experience driving to the airport in icing conditions the evening before proved useful to Richard as my car inched its way closer to our destination. We were successful in arriving an hour before flight time. The airport had planes taking off and landing. Hope for an on-time departure looked promising once again.
As Lesley and I entered the terminal and successfully negotiated through security, we noticed the departure gate number had been changed, but the flight was scheduled to leave on time. A brisk walk placed us at the proper location with time to spare before boarding. While we sat and waited, the flight schedule showed a 15-minute delay…then another 15-minute delay…then a 30-minute delay. An announcement explained that the plane was ready and available at a terminal on the other side of the airport, but four other planed were in line ahead of it and they couldn't cross from the far side because of the ice.
After 30 more minutes, a plane arrived at the gate and all passengers were hopeful until another announcement had us trekking to another location five gates away. This was not our plane! It was an arriving flight destined for somewhere other than Los Angeles.
Another hour of delays lets us know we will miss our connection from LA to Auckland, New Zealand and the next flight that was headed to that destination. It was one additional delay of 45-minutes before we saw our plane approach the gate at 7:00PM. Then there was a panic of airport personnel, specifically the crew that was scheduled for our original 4:30PM flight. They would become "illegal" if we didn't take off before 7:30PM. The rush to board passengers, load the luggage, and stock the food in less than 30 minutes proved unsuccessful, so wehad to wait on the aircraft while the airline "stole" a crew preparing to go to Miami!
At last we taxied to the runway to make our escape before the next wave of falling ice reached the Dallas area. The giant metal bird gathered enough speed and took to air in spite of the ice.
The three hour flight to LAX was filled with worry as to how we could get to Auckland, wondering if our bags that had been checked through to New Zealand were even on our plane, and concern as to where they would be placed since our connection had been missed.
Still Tuesday, February 25, 2003
What day is it?… What time is it?… Where are we?… Who are we?…
Touch down! A short walk from Terminal 4 to the Tom Bradley International Terminal left us at the ticket counter with two options: stay overnight and take the same flight the following day, or leave in 30 minutes, going from LAX to Sydney, Australia, then to Auckland, New Zealand. Because the reason for missing our connection was due to "an act of God" (the ice storm), the airline would not pay for an overnight hotel.
When we missed our connection, we had also missed an opportunity to see my daughter, Brandi, in LA, but she does not live close enough to the airport to pick us up and return us the following day while working. Also, we would waste an entire day, having to recuperate from jet lag. It has been over a year since I have seen her. We opted to take the longer but immediate flight. Before that could be arranged, it was necessary to apply for Australian visas to land in Sydney! The airline employee behind the desk filled out the forms on her computer.
With our electronic visas stored somewhere safely in the airline computer, we marched…no, trod our way to the gate via customs. There was barely enough time to call relatives with a nearly dead cell phone battery to let them know we were on our way to NZ via Australia.
No longer were our seat assignments at the window. We were stuck in the coach middle section of a Quantas 747. I sat on the aisle with the headrest of the seat in front of me almost in my face, while Lesley endured the kicks of the person to her left who was sleeping stretched across two seats. Her feet were under Lesley's arm rest. On this 12-hour flight, we crossed the International Date Line and lost Wednesday, February 26, along with several hours changing time zones…or was that gained (going west)?
Thursday, February 27, 2003
There's no substitute for good fortune…
The southern hemisphere has a different perspective of the world.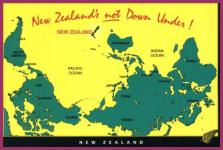 With an hour of the flight remaining, Lesley became air sick. There was no bag and the light for seat belts required for all passengers and crew came on. She tried to go to the restroom, but was sent back to her seat. Fortunately, there was a blanket and the foot area of the extra seat to Lesley's left. I was on the right. Whew! Welcome to Australia!
Our friend, Camelia, had asked us to keep an eye out for cute New Zealand guys (she's younger than WE are), but there were several Aussies on the way to Sydney who qualified.
One more 3 hour flight landed us in Auckland after 27 hours of not leaving either an airport or plane. We had no idea if the taxi that had been arranged to pick us up had been rescheduled for our new time. Word was sent by the aforementioned relatives to let our hosts know we missed the plane. We didn't know if they received the message. A few phone calls informed us we needed to get our own cab because the "good" taxi company was already scheduled for our new time. We were instructed to find a driver who knew where the small suburb of Clevedon was located.
The Taiwanese taxi driver said he knew where Clevedon was and loaded our bags. (They all made it with us to Auckland!) He didn't! We pulled away from the curb, then he stopped a few blocks away to check a map (the meter was turned off). I pulled out my detailed verbal directions from the internet web site and read where to go. I was ready to tell him where to go, but wanted to reach our destination first.
Driving through the countryside, on the wrong side of the road, we were welcomed to New Zealand by a brilliant full arc rainbow. White sheep dotted the hillsides as well as diary cattle. Lush greenery covered the island. The most noticeable plants were huge ferns in multiple varieties, including a palm fern. Other plants included pine trees, eucalyptus, Douglas firs and puriri trees, the latter inspiring the farm and winery being named Puriri Hills.
With coaxing to turn at various intersections, we arrived at the gravel road leading up to Paul and Judy Fowler's Puriri Hills Winery and Bed and Breakfast. We drove past an old frame building and a small barn with modern farm equipment, then past multiple rows of grape vines that had been covered with nets to keep the birds out as the grapes are ripening. They are almost ready to harvest. Birds like ripe grapes! The vineyard looked manicured and in pristine shape. Each row of grapes had a blooming rose bush planted at the end. Almost a quarter mile up the road, our taxi pulled close to the U-shaped front of the house to double garage doors on one side, wide doors on the center, and another entrance on the other side.
Since Paul had not yet returned from his U.S. business trip, Judy graciously greeted two virtual strangers who looked worse than something the cat would drag in. She had with her two white West Highland terriers that Lesley immediately bonded with.
Judy showed us around their palatial home and to our rooms. Comprising our suite were two bedrooms, an elegant bathroom, a large living and dining area with a small refrigerator, sink, and coffee.
I stayed in the room with a double bed and view of the front of the house. Lesley was happy to stay in the room with a dog decor. Did I mention that Lesley loves dogs?
A large hallway led us to a huge marble tiled bathroom. Wall to ceiling windows at the tub opened a view to a private fern garden that was also visible from the clear glass, walk-in shower.
The suite entrance spilled out at the front of the house where the taxi dropped us off. Another entrance opened to the end of a hallway with a highly polished, hardwood floor. Across that hall was Judy and Paul's bedroom and bath.
Crossing those rooms leads to the kitchen and informal breakfast area with the same open windows and views.
Farther down the main hallway is the front door to the left, an office to the left, an exit to the garage, and a laundry/mud room. To the right is a another bedroom and bath, and at the end of the main hall is a library/den that opens onto the porch from the kitchen.
A pinnacle of class!
After our tour, we took showers and washed away 27 hours of grime. We dressed in clean clothes and joined Judy in the kitchen area where she had prepared roasted chicken, brussel sprouts, and a salad with feta cheese. I have only eaten chicken a few times in my adult life, having been turned off of it in my childhood. Those few times when I eat it, I call it "polite chicken" because it is only eaten when I am a special guest. But, Judy's roasted chicken with cranberry sauce was very good!
We visited a while with Judy before returning to our suite where we collapsed into sleep.
The story continues…Auckland