2004 Hawaii Cruise
Every great vacation beings with the proper packing. The first thing you do is determine how many days you are going to be away. Then you decide what items are needed for each day. Contemplating this for a few days, you step out of the shower, take a look in the mirror, and try to identify one body part to highlight so other people will be distracted from your not-so-desirable features. But, unfortunately, you are unable to locate even one attribute you are content with. Resolving that this tactic is hopeless, you determine the best thing you can do is something that will make you feel good, so you go get a manicure and pedicure! Now your wardrobe has a color scheme to work toward!
So there are 14 days to account for on my trip. What's the easiest critical item to count out and pack? Panties! Do I have enough to last the entire trip? Barely! If I don't wear any for 3 days before I leave! Finally, all the clothes were selected to pack. In fact, there were twice as many clothes as needed, but one must account for clothes that shrink on a well stocked cruise ship. So instead of trying to pack each day's clothes together (not knowing exactly what I'd be wearing), I decided to divide the items between the two suitcases. If one was lost, I'd still have clothes to wear without having to sign up for nudist events! Some were also put in a small suitcase full of clothes to wear while I was in Houston.
Now you may be wondering why I would drive to Houston if I was going to Honolulu. Simply put, we got group air fares on Continental Airlines from there. I drove to Houston Thursday (July 22, 2004) without any problems...and that was good. I had way too many suitcases but one would remain there. I hoped the others didn't weigh too much. It would be embarrassing to have to rearrange in the airport in order to balance the load to less than 50 pounds each.
Sara Johnson Lacy and I tried to organize a Houston dinner on Friday (July 23, 2004) night while I was there. I talked with her and she was not feeling well. Since others who had previously attended a Houston dinner were not available, we decided not to meet Friday night.
So, instead, my family all attended a play...Grease...that my niece, Ashley, was performing in at Playhouse 1960 in Houston. A really good friend of the family was producer. It was really cute and well correographed. Most of the kids from my family have performed in something at one point or another, so I usually see a play every time I go down to Houston. This one had 53 performers in it...most were teens...and some outstanding performers.
We would be off on our flight Saturday (July 24, 2004) morning. Actually, it already was Saturday (1 AM) before I went to bed and the shuttle was scheduled to pick up 20 of our mob at 7 AM. I wasn't really looking forward to the long flight, not having the convenience of flying first class like my brother, John and wife Debbie. At least this flight was direct from Houston with no stop in Los Angeles or elsewhere.
So, to help keep track of who people are in this saga, I have created a chart of the cruisers:
Note that many of the following images my daughter Brandi took are 'artistic photos', thus the tilt of the horizon line.
A huge limo bus arrived on time and we all piled in. There was only standing room left by the time 20 people and all our baggage was loaded in front of my brother's house.
| | |
| --- | --- |
| The Limo Bus is parked in front of John and Debbie's house. | John inside the Limo Bus. |
We arrived at George Bush International Airport and waited about 30 minutes while checking something like 37 bags curbside and made it onto the plane with no problems.
| | |
| --- | --- |
| Part of the group on the way to our gate. | We wait to board. |
Except for John, Debbie, John's business partner, Bill, and his wife Karen, who were in first class, the rest of us were seated in coach where 3 of Bill's mostly adult children joined us. Also, Page's mother, Louise and her friend Peggy Fergus joined us on the plane. So now we're up to 27 people. Once on board, several of our babies/children started crying and screaming. Some continued most of the 8 hour flight. Fortunately for me, I travel with ear plugs!
The good baby, Payton!
We arrived in Honolulu just before 1 PM where we met Brandi who had flown in from Los Angeles and arrived about an hour before us.
Debbie, who did a fantastic job organizing everything, had made arrangements for our shuttle transportation from the airport to the hotel and then from the hotel to the ship and back.
| | |
| --- | --- |
| Debbie, John, Kaitnyn, Brandi, and Shaun wait for the bus in Honolulu. | Staci, Crystal, John, Courtney, Shannon, and Payton wait with the rest. |
| | |
| --- | --- |
| Except for Kaitlyn, the smokers take a break: Debbie, Kaitlyn, John, Alex, and Shane. | Still waiting for the bus. |
This was another 30 minute wait, but we were all quite surprised when a full size luxury tour bus arrived just for our group to take us to the Hilton Hawaiian Village in Waikiki where we spent one night before sailing.
Loading up, the kids were glad the fancy tour bus had a potty!
If you haven't been to Waikiki, as you would expect, the Hilton was quite nice.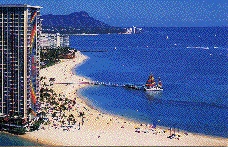 Hilton Hawaiian Village resort in Waikiki.
We were there a couple of hours before check in time and were lucky to get 3 of our 5 rooms in the Alii Tower early. Mine had a view of the pool and some lovely water gardens with flamingos, turtles, and penguins in them.
| | |
| --- | --- |
| | |
| The gardens at the Hilton Hawaiian Village had flamingos and other birds including penguins sharing their pool with turtles. | |
One thought a recently single woman has is renewed flickering hope of meeting her white knight...Prince Charming...her Fantasy lover. To search for the same dream man who has evaded her thus far through her years to maturity is once again a possibility. Hawaii seemed to be a perfect place for such an occasion. Unfortunately, my rendezvous with my secret hero never materialized. A girl can dream. And I sit and wonder if these photos of me look so bad because the camera had a wide angle lens on it!
Many of us spent the afternoon near the patio buffet beside a swimming pool that was reserved for residents of the Alii Tower. Some of the group went down to the beach. Others who had been up late the night before opted to sleep in their rooms.
| | |
| --- | --- |
| Bonney visits on the patio. | Crystal, Hillary, Callie, and John take a patio moment. |
The next day shortly after noon on Sunday (July 25, 2004), we loaded our 21 people (now that Brandi was here and Louise and Peggy and Bill and family were on their own again) onto our giant bus, with all the luggage stowed below and rode to the dock where the ship was waiting. The mistake we made was arriving right at 1 PM when boarding began for the Norwegian Cruise Line (NCL) Pride of Aloha, because apparently at least half of the other passengers had the same idea and we had long lines to wait in...except those 'exclusive' passengers and those with babies, who got to go to the line for 'special people'. I know I'm special, but was not special enough for them!
Some of you have not heard the story of what happened to the original, new ship, the Norwegian Cruise Line (NCL) Pride of America, that we had booked our cruise on... MORE
In 2002, Norwegian (NCL) bought the unfinished hull and floated it from Mississippi to Germany to complete construction, at the Lloyd Werft shipyard in Bremerhaven. The ship was named the Pride of America, and scheduled for completion and delivery to NCL in April of this year.
Then, on the night of January 13th, a powerful storm struck Germany, uprooting trees and flooding rivers. High water closed roads and forced evacuations as winds in excess of 100 MPH and torrential rains raged through the night.
In northern Germany, at the Bremerhaven shipyard, the unfinished Pride of America was tied to the dock, covered with scaffolding, when the storm struck. The 921-foot liner was buffeted by wind and waves. Shortly after midnight, the vessel shifted suddenly toward the pier, knocking over a 600-ton crane that in turn damaged 2 buildings. Four workers on the ship were slightly injured.
According to police reports, there were openings in the hull that took on water. There has been speculation that high winds blew water through the openings, but it's also possible that the winds caused the ship to lean just enough to drop these openings below the water line. In any event, the bottom 3 of the ship's 15 decks were flooded, including the engine room. Fortunately, none of the ship's public areas or passenger cabins flooded.
News reports that the ship "sank" were misleading. The harbor is only 33 feet deep in this area, and the ship's draft is 26 feet.
To resolve the situation, NCL decided to do the following... MORE
The sunken ship Pride of America is larger than the replacement Pride of Aloha.
Pride of Aloha didn't have as many expensive cabins and all the cabins are smaller.
People booked in some of the expensive cabins (that are too few in count) were assigned to cabins the next level down, i.e. Suites -> ocean view, ocean view -> inside.
No compensation was given for the downgrade in type and size.
Some lucky enough to stay in a similar cabin were asked to pay MORE!
So, it's like paying first class and riding in coach. That's why so many people were irate. For us to rebook a different date, we would lose money on our airfare since we didn't book it through the cruise line. It would cost $100 per person to change our flights. NCL did this for all of the Pride of America cruises booked all summer.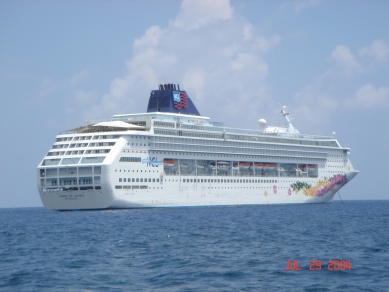 The Pride of Aloha at anchor.
So, back to the saga...CONTINUE