2005 Alaska Cruise
A Chilling Summer Vacation
In order to tell this story properly, I want to include the events experienced by all the travelers in our group, most of whom arrived in Alaska before me. When submitted, their impressions/versions of our vacation will be added. Also, please note that when I write of my vacation experiences it is for myself, so there may be more details than you care about. But this way I can later recall all the details that made me smile, laugh, and feel good about life. I'll try to write this in third person.
Bonney
Members of this group were:
| Cabin B721 | Cabin B723 | Cabin B719 | Cabin B725 |
| --- | --- | --- | --- |
| | | | |
| Bonney | Linda | Sherry | Donna |
| | | | |
| Mary Ann | Rudy | Steve | Jane |
Our group had been looking forward to this trip for months — a cruise in Alaska, starting in Whittier, Alaska; through Glacier Bay and College Forge; stopping in Skagway, Juneau, and Ketchikan; before docking in Vancouver, British Columbia, Canada. But, Sherry, Steve, Donna, and Jane started their trip with a land tour in Fairbanks, Alaska. And Rudy and Linda left early to explore the area around Anchorage. Bonney flew in to Anchorage a day early, while Mary Ann arrived just before the ship cast off.
| | |
| --- | --- |
| | |
| Alaska from Space. | State Icons. |
The trip for the early birds began in Fairbanks three days earlier than the rest.
| | |
| --- | --- |
| Tuesday, July 12, 2005 | Fairbanks / Anchorage |
Rudy and Linda went to DFW airport to find a plane to Anchorage by way of Chicago. They were flying standby so they felt they needed to leave ahead of time so they wouldn't miss the cruise. There were no problems getting to Chicago, but Rudy had to ride the jumpseat in the cockpit from Chicago to Anchorage. No, he's not a terrorist. He is a ground school instructor at American Airlilnes Flight Academy and is allowed take any seat available in order to get on a specific flight. The seat wasn't comfortable, but he did have the advantage of eating the same meal that was served to the crew! Linda didn't realize how long the flight was. They arrived in Anchorage that evening, rented a car, and drove to Elmendorf AFB which was just outside of Anchorage.
Donna, Jane, Sherry, and Steve started in Fairbanks where there were 20 hours of daylight and average daily high July temperatures of 70°. They rode an authentic sternwheeler riverboat down the Chena and Tanana Rivers, then did sightseeing by motor coach to the Denali Princess Wilderness Lodge where they spent the night.
| | |
| --- | --- |
| | |
| Sternwheeler Riverboat. | Sternwheeler Riverboat back view. |
| | |
| --- | --- |
| Wednesday, July 13, 2005 | Fairbanks / Anchorage |
Rudy and Linda stayed at Elmendorf Air Force Base for $24.50/day, but there is a maximum stay of three days for retirees. So on Friday, they had to move out to a hotel. They saved some bucks by buying souvenirs and staying at the base.
Elmendorf Air Force Base has a sanctuary for three eagles that would not be able to survive on their own. Since the base flies F-15 "Eagles" aircraft, the base had adopted the eagles for further care.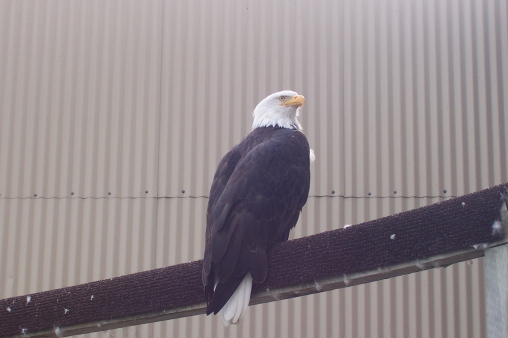 Bald Eagle.
Rudy also enjoyed looking at airplanes.
| | |
| --- | --- |
| | |
| Model of RC-135 aircraft, in memory of its crew that crashed after T.O. in 1995. | P-38 Lightning (WWII aircraft). |
| | |
| Static display of F-15, C-130, F-86, F-102 , and F-4. | Walks on water. |
The day was beautiful (and cooler than Texas) so Rudy and Linda drove north to Denali National Park. Again, Linda didn't realize how long the drive would be. They thought they should've stopped when they got their first "great" sighting of Mt. McKinley. The sun was shining and the day was clear, so they had a beautiful view—clear all the way to the summit.
They continued the rest of the way to Denali Park, but when they arrived, all the tours were completely booked up. Linda was disappointed and not looking forward to the long drive back to Anchorage. The scenery (Mt. McKinley especially) and weather were both great, so that made up for all the time spent in the car.
| | |
| --- | --- |
| Thursday, July 14, 2005 | Denali / Anchorage / Seward |
Rudy and Linda drove to Seward. Another good day was spent on the road because of great scenery and weather. They visited a research aquarium in Seward and did some souvenir shopping. Seward is a quaint town, but Rudy and Linda were surprised to see tsunami evacuation route signs!
Meanwhile, on their way back from Seward, Rudy and Linda made a stop so Rudy could do some panning for gold in an attempt to help pay for the cruise. It was supposed to be the location of an old mine. It took Rudy a while, but he finally got a few flakes of gold that were then deposited into a small vial. Better luck next time.
They also stopped to see some men fishing for salmon in a creek, and quite a few were being caught.
| | |
| --- | --- |
| | |
| Rudy pans for gold. | See the tiny specs he found. |
| | |
| --- | --- |
| Friday, July 15, 2005 | Denali / Anchorage |
Linda and Rudy spent the morning on Eldorf looking for the base exchange. Their afternoon was spent in downtown Anchorage where they heard a lecture on dog sledding at one of the downtown museums.
Linda thought that the flowers were beautiful. Is her head sprouting flowers? Does Rudy take photos like this on purpose? Pretty. Silly. So many questions, so few answers.
| | |
| --- | --- |
| | |
| Linda poses with the posies. | You'd think they'd give her a headache. |
They decided to share a "reindeer" hot dog. Santa won't be pleased. Eating his reindeer! Tsk, tsk. After that they went to a store that boasted the world's largest chocolate fountain.
| | | |
| --- | --- | --- |
| | | |
| Rudy going for a reindeer hot dog? | Rudy waits for Linda to finish shopping. Maybe not. Who's taking the photo? | Rudy and the Chocolate Fountain. |
| | |
| --- | --- |
| | Sherry, Steve, Donna, and Jane spent their morning on the Natural History Tour into Denali National Park. They boarded a Princess rail car and headed south to Talkeetna. Then transferred to the Mt. McKinley Princess Wilderness Lodge for an overnight stay in the shadow of Mt. McKinley. Here there were 19 hours of daylight and average daily high July temperatures of 70°. |
Oh, yes, Linda and Rudy were expecting to have dinner with Bonney since she was "supposed" to be flying in that evening, but they found out that her plane was delayed. At first they thought that the delay might've been caused by the smokey haze in Anchorage that day because of a forest fire south of the city, but that wasn't the case.
This was the day Bonney headed to DFW airport for her flight into Anchorage. As is often the case, the weather usually plays a factor at the start of her vacations. This trip was no different.
She arrived at DFW Airport two hours early, as suggested, and had no problems checking in as a slow sprinkling of rain started. When at the departure gate, she found the flight before hers waiting to take off because apparently some lightning had shut down the airport for several minutes. Then when things were opened up again, planes were backed up everywhere. She had to wait for another plane to arrive at and depart from the gate before her plane could come in. Then the airport was shut down again for a few minutes, causing more delays. Finally boarded, she had to sit some more. At last a taxi to the tarmac with hopes of taking off, but alas, she had to wait longer. Three hours after the scheduled take off, she was finally in the air. With the delays, the length of the flight, and time change, she arrived in Anchorage around 1:30 AM on Saturday rather than her scheduled arrival at 8:34 PM on Friday. Bonney waited for her bags and even longer for her shuttle to the hotel.
Bonney reported, "I spent the night at the Best Western Barratt Inn. When I checked in, there were two messages from Rudy and Linda, who were already in Anchorage. One told the name of the hotel they were in, had a phone number, and a message to call when I got in, no matter what time, so we could make plans for the next day. The second said to call them when I got up in the morning. Since I arrived so late and thought I'd sleep forever, I called at 2:30 AM-ish Alaska time. That was the first time I'd heard Rudy's "bedroom voice"! Linda said they'd call me around 9:30 or 10:00 in the morning and, since they had a rental car, I would be able to go a few places in Anchorage with them before we returned to the airport to catch our transfer bus to Whittier.
It was not exactly an inn up to my usual standards...squeaky bed, dim lights, and no air conditioning. I could have opened the window to the upstairs, outdoor walkway, had I wanted to take a chance on hearing people outside (still up with the glow in the sky camouflaging the late hour) who could easily break into my room. On the positive side, there was soft water (roughly translated, "It takes longer to wash off the soap.") I was there only a few hours, so I felt I should have had a guy there for a quickie!"
| | |
| --- | --- |
| Saturday, July 16, 2005 | Anchorage / Whittier |
It's great to have good friends who are so nice. Everyone else should be jealous. Linda and Rudy picked Bonney up at the "hotel" and took her shopping at a place they had already visited so she could pick up some souvenirs.
When entering the Alaska Wild Berry Products store, the first thing noticed is a fountain cascading liquid chocolate. Beside it were stacks of huge chocolate bars. Yum! Bonney purchased some fudge and started her collection of post cards to mail to friends. She ended up sending about 30 total, but this shopping trip started with about 5 or so. Some she kept for herself.
| | | |
| --- | --- | --- |
| | | |
| Bonney. | Bonney, Linda, and Rudy play tug-o-war. | Bonney. |
The other fun thing in the store was the stuffed grizzly bear. It's the one in brown next to the moose, also in brown! Since the grizzly in the store is the only one seen so far, here's a better representation below.
Grizzly Bear.
It was during this shopping adventure that the great salmon search began so we could send some back to Chip Sherman. It always happens when you are at your first chance, you wonder if you should buy it now or wait for a better opportunity. Bonney decided a smoked salmon in a package was worth two not-yet-on-the-other-end-of-a-fishing-pole, and purchased some. When it was time to lug our baggage to the airport so Bonney, Linda, and Rudy could catch their shuttle bus to Whittier, they knew there would be a logistical problem with so many bags and such a small car, a Kia. So, Linda and Rudy's luggage was taken on the first trip since it was already loaded in the car. Linda stayed at the airport with the bags while Rudy and Bonney returned to her "hotel" for her two large bags. Then he dropped Bonney off by Linda and returned the rental car, joining them afterward.
| | |
| --- | --- |
| | The bags were checked with the Princess representatives and everyone lined up for the buses by this sign. |
| | |
| --- | --- |
| While they were on their way to Whittier by bus, Donna and Jane, and Sherry and Steve returned to Talkeetna and boarded the McKinley Express rail directly to Whittier where the cruise ship awaited. | |
| | |
| --- | --- |
| | On the bus ride from Anchorage to Whittier, Rudy, Linda, and Bonney stopped at the Alaska Wildlife Conservation Center where rescued animals are kept. |
| | |
| --- | --- |
| | |
| Linda and Rudy on the bus. | Black bear hidden in the tree. |
They saw moose, elk, black bears, deer, bald eagles, a red fox, a porcupine, caribou, and reindeer. Can you find the black bear sitting in the tree? Some were difficult to snap a photo of because of a drizzly rain, so thanks to post cards, some animals are previewed here.
| | |
| --- | --- |
| | |
| Black Bear. | Red Fox. |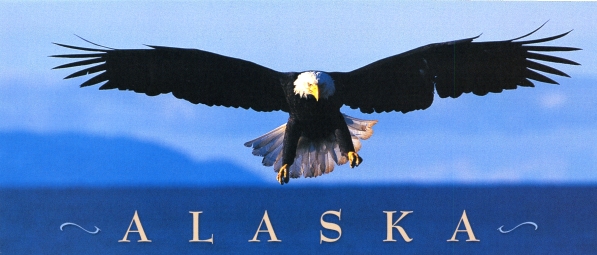 Bald Eagle.
This was a Princess Cruise on the Coral Princess, a 7-day Voyage of the Glaciers Cruise!
| | |
| --- | --- |
| | |
| Princess Cruises. | |
To arrive in Whittier, land transportation must pass through a tunnel. The strange thing about the tunnel is that it is only one-way and cars, trucks, busses, and trains all use it. Busses and cars going to Whittier had certain hours to use the tunnel, then trains going to Whittier were schedules, followed by busses and cars leaving Whittier, and finally trains leaving Whittier.
| | |
| --- | --- |
| | |
| Linda boarding the ship. | The Coral Princess. |
| | |
| Whittier from our balconies. | |
With hungry stomachs, Linda, Rudy, and Bonney boarded the ship around 2:30 PM. After leaving carryon luggage in their rooms, they discovered gifts from their fantastic travel agent, Sherri Taggart: a bottle of wine and a Princess tote bag for each person. Each cabin also had a plate with cookies.
They found the Horizon dining room buffet stocked with plenty of tasty food, having to pass by two swimming pools on the way.
| | |
| --- | --- |
| | |
| Rudy and Linda at the indoor Coral Princess pool. | |
Before the ship could leave the dock, we all had to participate in an evacuation drill. They pretty much told us where to meet to catch our lifeboat, how to put on the life jacket, and if necessary, how to jump from the ship without breaking our necks. You don't want to be wearing heels when the warning blows.
| | |
| --- | --- |
| | |
| Jane, Donna, and Mary Ann evacuate. | |
For the first time, this group coughed up money for Balcony Staterooms. This was most enjoyable for cruising the Inside Passage, as there were islands on one side of the ship and mainland on the other, for the most part. The consensus was that this was a fantastic decision. The first day, the doors connecting the four balconies were locked.
| | |
| --- | --- |
| | |
| If you look closely, you will see Bonney, Steve, and Sherry. | And here's Mary Ann, Bonney, Sherry, and Steve. |
Donna found a good shot.
Donna and Bonney.


Mary Ann thinks she sees something.
Mary Ann and Jane.


Rudy, the spy guy.
Rudy and Linda.


Rudy relaxing with his wine.
Linda lookin' good in red.


Seagulls found some fish that were disturbed by the ship.

Not only did they have great views from their balconies, they were close enough to go to the back of the ship at various times when activity was announced on the port side.
| | |
| --- | --- |
| | |
| Mary Ann. | Mary Ann and Sherry in the wake. |
| | |
| Mary Ann, Linda, Jane, and Rudy. | If not at the back of the ship, they were riding in glass elevators. |
In addition to the buffet, there were two formal dining rooms. Donna and Jane opted for "anytime dining" which was assigned to the Bordeaux dining room. When formal dining was requested, a table was assigned in the Province dining room where the rest of the group ate. They were fortunate to have a round table beside a large window on the starboard (right) side of the ship where they could watch the scentery go by. This luck was accredited to Sherri Taggart, also. Normally, the dress style for dinner was "Smart Casual" with two designated "Formal" nights.
A daily newsletter was delivered to each cabin, telling of events on the ship for that day and where to shop in the port where the ship was docked or tendered. It also reminded cruisers of that day's dinner attire.
Their waiter, Stefano, had an Italian accent, as did his assistant waiter, Carmen. It took a couple of nights for Bonney to realize when he offered "squish" as a food choice, he was saying "squash". She was thinking it was yet another type of seafood that she doesn't eat.
| | |
| --- | --- |
| | |
| Linda ordered piña colada "soup" and was pleasantly surprised. | The Valley Girls. Sherry, Bonney, Mary Ann, and Linda. |
The first evening on the ship, after dinner, the group discovered the casino. It's a great place to donate money. Some of the gang started out as big spenders on the quarter slot machines, then as the nights progressed, they migrated to the nickel machines, and by the last day, were trying to squeeze everything they could out of the penny slots! No one quit while they were ahead.
Front to back: Sherry, Bonney, Steve, Mary Ann.


for more of the saga...