| | |
| --- | --- |
| Sunday, March 15, 2009 | Depart Galveston |
We were able to sleep in a bit, but John and Bruce returned to a closer CVS pharmacy to get John's medicine and then returned to the condo. Our intention was to board the ship around 1:00 pm. Then came the discussion of how we would transport the six of us with ten checked bags plus carry ons. This "planning" took about thirty minutes while we were waiting for John to complete some last minute work. In the end, around 1:30, Bruce and I drove two cars to the dock where our cruise ship was boarding this week's passengers. We dropped off our checked luggage with a porter, tipped him, and returned to the condo to transport the bodies. The six of us loaded ourselves and carry ons into my car, a Mercury Grand Marquis, which is large enough as long as we have at least one skinny person. That would be Page! Now you may be wondering why we didn't use this transport method at last night's dinner. Well, my car was still full of suitcases at that point!
We were sailing on Royal Caribbean Cruise Line Voyager of the Seas ship and were to stop at three ports of call. Departing from Galveston, Texas; going to Cozumel, Mexico; George Town, Grand Cayman; Montego Bay, Jamaica; then returning to Galveston, Texas.
| | |
| --- | --- |
| | |
| Bruce and Debbie at Pier 2. | Bruce, Bonney, Page, and Katie wait in line. |
Debbie waited for John's return while the other four of us got in line. John and Debbie are frequent Royal Caribbean cruisers, so they got to go in the line for "special people" that moves faster than that for us peons. Because it took John so long to return to the pier, it turned out the six of us finished customs and boarded the ship at the same time, then went in search of our respective rooms.
At stateroom 8555, Katie and I met our room steward, Edward Morrison, who did a great job all week.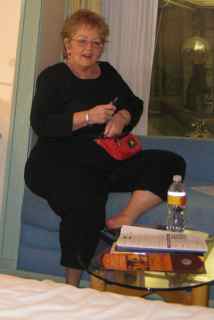 This was an inside cabin that, on Voyager, had a window seat overlooking the Promenade three decks below.
Our suitcases had not yet been delivered. At times like this one might wish the phrase "Abracadabra!" could make them appear before us. But we were armed with the content of our carry on bags and the forethought to arrive dressed casually for dinner. But first, there was the mandatory evacuation drill just before the ship was to pull away from the pier. While we were waiting, one of the crew told us there were 1100 Spring Break students on board! During the cruise, the number of students was mentioned by more than one staff member and always with a dazed look in their eyes.
Our evacuation drill was around 4:45 and had to be completed before the ship could leave the dock at 5:00. Debbie had chosen early dining. I was expecting our dinnertime to be at 6:15 pm, but learned it was at 5:30 pm for this trip.
On our way back to the room to drop off the life jackets, Katie and I discovered the shuffleboard area. She had mentioned a desire to learn to play but that, in fact, was our last time to see it.
Somehow time slipped by enough that we discovered we were late for dinner and we had to rush from our cabin to La Bohême dining room at the other end of the ship. We found my brothers and wives sitting at our table waiting for us. Our table had a nice view of Galveston as the ship left the harbor.
We met our waiter Jose Tejada and assistant waiter Kahshakah Scott. They were assigned to us for the whole week.
| | |
| --- | --- |
| | |
| Jóse | Scott and Jóse |
Our dinner was excellent. I selected the main course option of pork tenderloin medallions with asparagus spears. In Texas, we don't get many opportunities to order a good pork chop, ham, or pork tenderloin in restaurants. After stuffing ourselves, this was the first of many times to moan as we left the table and waddle back to our cabins.
After tossing around the suitcases at the loading dock, standing in the customs line for about forty-five minutes (a quicker than normal wait), and having the drizzling weather outside, my body was well aware of its unaccustomed activity. My biceps hurt, my back ached, and I had one of my annoying sinus headaches (I call them rain headaches). I was ready to hit the medicine in my carry on as soon as I returned to our room. Katie wandered off and I found that Edward had deposited our luggage from the hallway to our stateroom. So, I started putting things away.
My first bag mostly contained gift boxes for my traveling companions. Usually on a cruise or trip, I try to make something to give to my friends. One time it was flannel bags that could be used for packing shoes or other items. This time, I had some oval boxes that were filled with a laminated bookmark commemorating our trip (I always make a bookmark), homemade caramels, homemade white chocolate coconut haystack candy, and a few other items.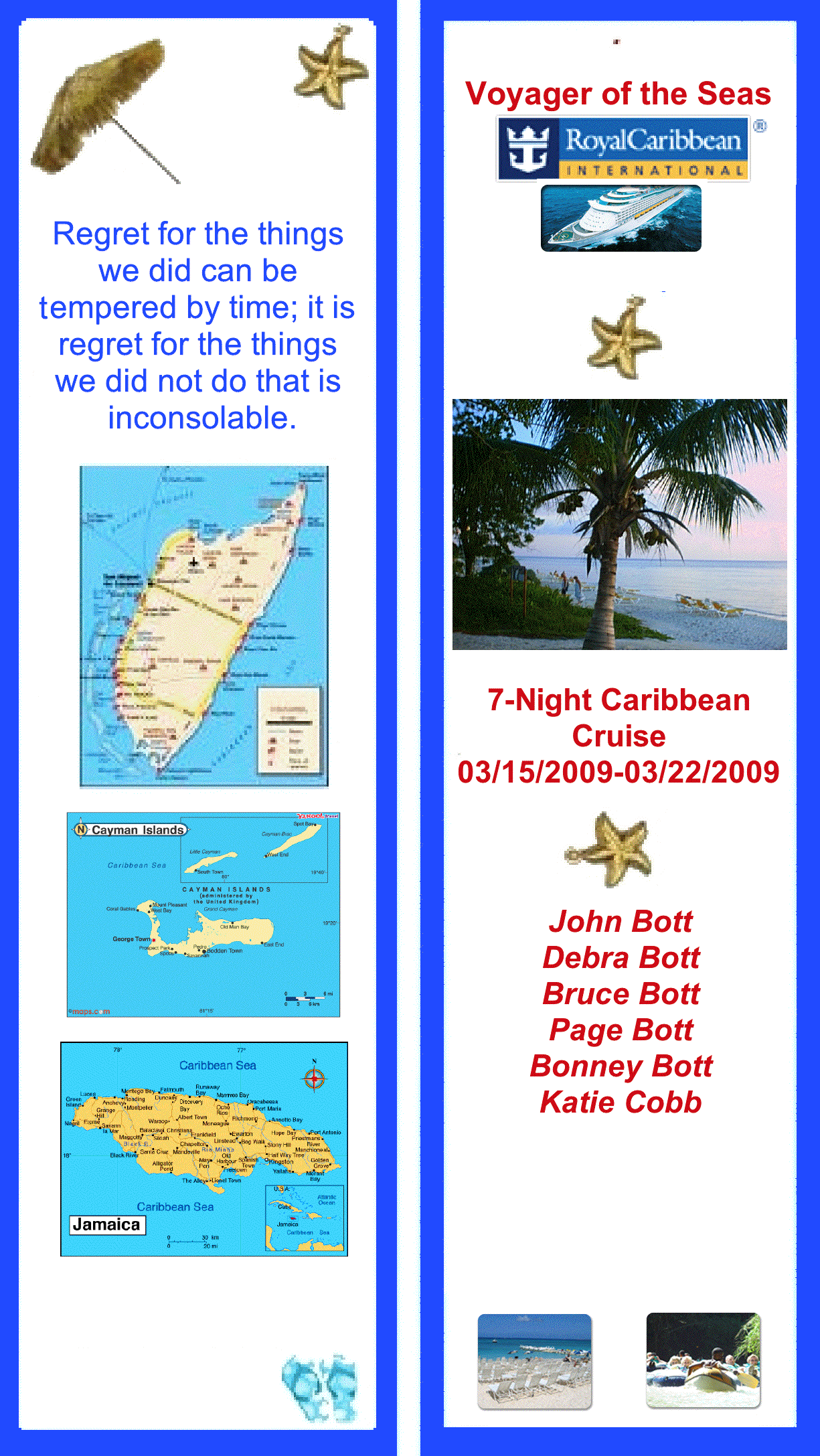 A souvenir bookmark.
When I got to my second bag, I found that I had put one of those little suitcase padlocks on the ziper. This one had most of my clothes in it. I looked in my purse for the key, but my keys weren't in their usual place!
Because of the car and luggage juggle, John ended up with my car keys, which is where I thought my suitcase key was, but when I phoned his room to ask if he had them, I wasn't sure if the condo helper had returned John to the dock in my car and had the keys or if John had them.
It turned out that John had my keys, but wouldn't bring them to my room until he finished smoking one of his cigars out on their balcony. Bruce and Page had gone to John and Debbie's suite for drinks. An hour and a half later of not being able to unpack the suitcase with traveling nightgown and other clothes, Bonney was getting very cranky, in pain with her headache, sore back, and blown out shoulder from tugging and lugging HIS suitcases (and her own) out of the car at the loading dock. Believe me, you don't want to be around Bonney when she's cranky. And my brothers know that. So Bruce volunteered to bring the keys to me so I wouldn't be so irritable. He was rewarded with the gift box I had made for him (and the others). He returned to John's suite with his gift and a pair of John's shoes that they didn't have room to pack. Of course, the others didn't get their gift boxes! Unfortunately, Katie returned to the room in time to witness my crankiness. We did manage to get to sleep.