Page 2
Thursday, September 23, 2010 – Boarding in Diva T-shirts
We arrived the next day around 11:30 to the shortest lines I've ever seen at either cruise terminal, and approached the agents at the sign in desk very quickly. Unfortunately, as they were processing us, the computers slowed to a drag. We passed through the paperwork but before we could get to the gangway they were returning people who had arrived at the ship, but couldn't get in because the power had gone out and computers had gone down. We sat and waited about fifteen minutes before the computers could be rebooted after the power was returned. We boarded the Carnival Ecstasy in the Grand Atrium, a five deck high entryway with the neon glitz of the ship's New York theme.
We were supposed to meet the rest of the Divas on the Lido deck at the starboard side of the pool (where they allow smoking). No other Divas had arrived yet. It was hot and humid there, so Katie and I went into the air-conditioned café area and had lunch.
The cabins weren't available until 1:30 so we had to drag our carryons everywhere with us. When the room became available, we went to the Upper Deck, room 37, which was pretty much forward on the ship, then dropped off our bags and collapsed on the beds to rest a bit before we returned to Lido deck to meet our friends. Upon our arrival, we met our cabin steward, Irawati. She told us to call her Ira. As usual on a cruise, her housekeeping kept our room spic and span.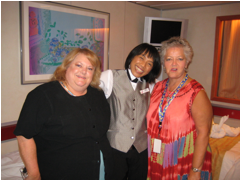 Bonney Bott, Ira, and Katie Cobb
About 48 Divas arrived on a party bus that came from Sherri Taggart's home in Cypress, Texas so many of the locals wouldn't have to drive themselves to Galveston and pay for parking. Along with their drinks and singing on the bus, they were issued crowns for being Bus Divas.
Sheila Abshire and Martha Baylor
The bus included the rest of the Cruise Capers Travel team I work with:Sherri Taggart, Sheila Abshire, and Martha Baylor. Katie had met Sherri and Martha previously when they came to one of my Game Nights.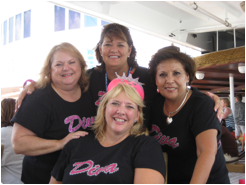 Bonney Bott, Sherri Taggart, Martha Baylor and Sheila Abshire
We sat around on the Lido Deck from around 2:15 to 3:30 where most of the Divas were continuing the drinking celebration from the bus. Most of the Divas arrived wearing their Diva T-shirts and white or black shorts or slacks so we could make a grand entrance. It was really warm and humid sitting around and talking. Notice, I'm almost hugging the ice bucket.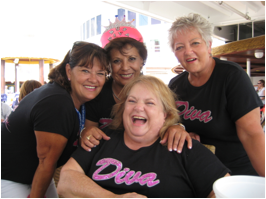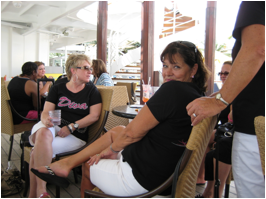 At 3:30 we were called to our muster stations for the emergency drill. Fortunately this time we did not actually have to wear the life jackets that are really uncomfortable. Instead, we watched a demonstration in a cool, air-conditioned area of how to put them on and received instructions as to where we should go in case the emergency signal sounded. They must have figures out they were wearing out all the life jackets just by doing drills. When the drill was completed, the ship set sail (Do ships without sails set sail?) and we had an evening of smooth water.
After the drill, we returned to our room to rest and unpack before dinner.
The Wind left dining room was all the way aftÉnot a fun hike if you're wearing something other than flip flops. We had early dining at 6:00 and the girls all showed up in the Diva T-shirt outfits together, occupying almost a whole section of the dining room. This is where we met our waiter for each night, Michael, and hisassistant, Ptai (pronounced Tai).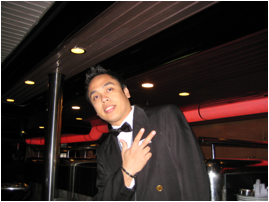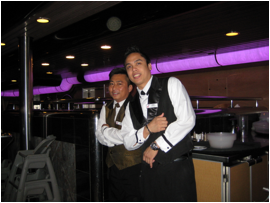 Dinner was left, but some other cruises served what I considered fantastic food. But, the chocolate melting cake for dessert was excellent with vanilla ice cream. The presentation was very artistic, and after the first night, we started taking photos of some of the food, just for our friend Rudy because he likes food photos!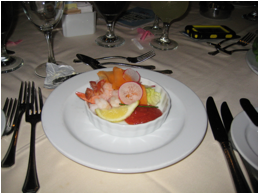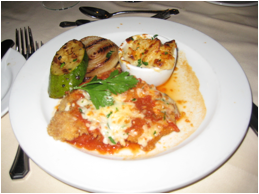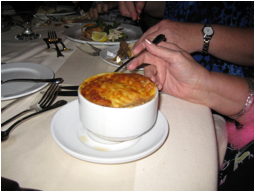 Each evening after dessert was served, the waiters marched by as wild music played and people dining twirled cloth napkins around in the air.When they stopped to serenade us, some of the Divas got up and danced.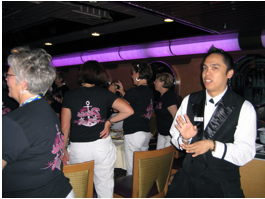 Katie and I had planned to go to the Bingo game at the other end of the ship, but we were late finishing our meals. Katie rushed out for the front of the ship but since I'm not walking well because of back problems, I just sat and finished my dessert!
No. She didn't win.
While waiting for Karaoke to start, I went to the Crystal Palace Casino. The slot machines had all been converted to coinless, but rather than issuing tickets when you cash out, like they do in Las Vegas, you were required to set up an account based on your Sign and Sail card, which, in turn, was tied to your credit card. So you had to set up a password and for each machine you were on, you had to enter the password to move the credit from the card to the machine, and to cash out you had to move the credit from the machine to the card. This does not work well if you like to travel from one machine to another often. It is very difficult and time consuming to move from one machine to another having to cash out to credit the card and then put the card in the next machine. I put in twenty dollars cash, set up the complicated money management scheme and played the quarter slots with my three-coins-at-a-time spins. I think I only had meager hits of anything about four or five times before my twenty dollars disappeared. I usually plan to "entertain" myself for twenty dollars a day. This day it took me about six minutes including several machine changes. Not only that, but I didn't find any two coin machines in the whole casino, at least not for quarters. This was when I decided my three remaining twenty-dollar allowances would be spent on Bingo or in Cancun!
After Katie's Bingo and my slot machine experiences, several women had planned to meet in the Starlight Lounge for Karaoke. I went there, but Katie ended up staying in the Blue Sapphire Lounge to watch a show. Karaoke was good. In addition to people singing, there was a dance floor for anyone any one interested, at the suggestion of the KJ (Karaoke Jockey). We were pleasantly surprised by five to ten excellent singers and cringed at the not-so-excellent ones who kept signing up to sing. A lot of the Divas got up and danced. My favorite new friend from the cruise was Shirley Carbone Gower, who is a real character, in every good sense of the word. She was dancing around the pool, at dinner, and at every opportunity.
Each night when we returned to our room, Ira had cleaned up and left us a towel animal. Here's our menagerie: an elephant, a dog, and a rabbit.