Page 4
Saturday, September 25, 2010 – Cozumel – Cocktail Party
The ship docked in Cozumel at 9:00. Katie was up early to get her coffee and breakfast. I had ordered breakfast in the room so what little movement I had going for me could be expelled in the shopping area. Katie and I went out to the dock to go to the shops by the pier in Cozumel rather than opting for a shore tour. This was my fifth or sixth trip to Cozumel, so I had been on most of the available adventures that I was interested in. In addition, rain showers from Tropical Storm Matthew had been affecting the Cozumel weather.
The pier was about a quarter of a mile long and with my back issues, I knew I wouldn't be able to walk that far and still be standing by the time I got to the shopping, so I hired a bicycle type rickshaw peddler to take me to the other end. This is where some of my previously allocated Casino money went. I figured the bicycle guys needed it more than the Casino did. Katie likes to walk, so she didn't ride with me. I sat down to wait for her arrival before going into the shops.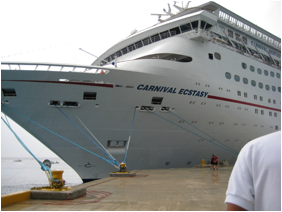 I had asked Brandi if she wanted me to pick up anything for her while I was in Cozumel, but she couldn't think of anything she needed. So, I was there with a mission to get a chain and medallion for a high school friend, George Weber, so Katie and I went into a silver jewelry shop. Katie found a chain and a cute silver and turquoise seahorse for herself. She had looked for an iguana, but they didn't have any. We went into the shop next door and found a beautiful silver iguana inset with Australian opals. It's very pretty, so she got that, too, planning to give the seahorse to her daughter. While we were out, I also picked up some vanilla for all my baking and some miniature maracas. Having made my purchases and with my back hurting again, I left Katie to peruse the other shops and headed to the bicycle rickshaws for a ride back to the ship around 1:00.

When you have a group, the cruise line will provide a cocktail party for an hour where all the drinks are free. Several of the Divas participated at the Stripes Dance Club up until dinner at 6:00.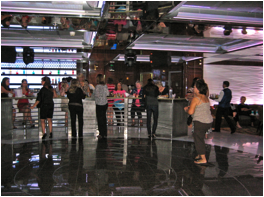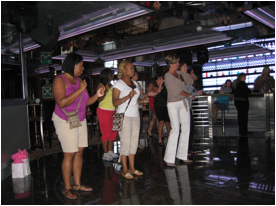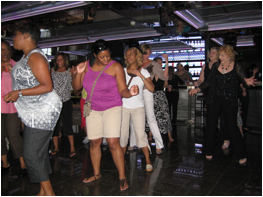 Katie and I hiked/hobbled to the Blue Sapphire Lounge for Bingo after dinner. This one was really a rip off. One three-strip card for twenty dollars to play one wimpy Bingo. Not close again.
Katie and I stayed to watch a New York Broadway Review show in the same lounge after Bingo. But, we were dragging our wagons and almost fell asleep before it ended. After the final applause, we headed to the room.