Page 3
Friday, September 24, 2010 – At Sea
We had a little motion in the ocean, so to speak, during the afternoon and evening so since I was on a somewhat normal sleep schedule, I slept in until 10:00 AM, missing Bingo again. Katie is an early riser, so she was up, had her coffee and went to Bingo, again. Again, she didn't win.
When I got up and took my shower, I washed my hair and proceeded to put lotion on it after the shampoo, thinking it was cr¸me rinse. Maybe that's why the directions say wash, then repeat. I started over!
I dressed and headed to the Panorama Bar and Grill for breakfast, wandering through the casino and around the pool looking for Katie or some of the other Divas on my way to the aft of the ship, arriving close to 11:00. I found some toast and jam, hash browns, and crispy bacon and washed it down with hot cocoa. The whole time I was sitting there, I was thinking about pizza. Carnival ships have the BEST 24-hour pizzeria and I hadn't had a chance to try it yet. Since it was almost noon by the time I finished breakfast, I wandered to the pizza area and got a slice. yummy. Definitely on my list for the next day. The other plus was the 24-hour soft serve ice cream or yogurt. Yum…to the ice cream.
As I was coming out of the café, I ran into Katie who was on her way to sit by the pool and take in some sun. We found a lounge chair on an upper deck reserved for adults and visited a while. Although this was an adult area, the water slide was there, too. I was just wearing shorts and a top, so wasn't interested in sitting in the sun too long. The ship ran through a nice, short rain shower that cooled things considerably. When it was gone, I sat some more to dry out before hunting down some of the other Divas.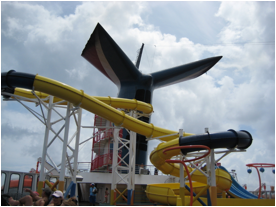 Katie stayed out sitting in the sun. I went in search of Sherri to tell her I brought a signed copy of my brother John's co-authored book, "Bond Daddy."
When I found her and other Divas sitting by the pool, I sat there with them, wishing I had my suit on so I could cool off in the water.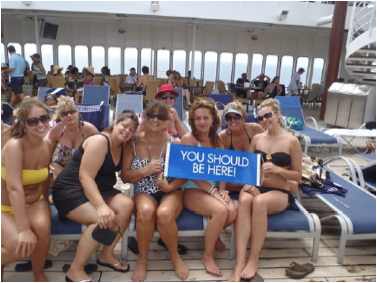 At last it was time for my first Bingo experience on this cruise at 3:00. A set of 3 cards cost twenty dollars and for this game, we used the same set to play five games. Not much fun, as they went fast and I didn't get close to winning any of the specialty patterns like a four corners, six pack, a straight Bingo, etc. So, I just played all the numbers called to get some use out of my card. I wasn't too thrilled losing that twenty dollars, either. Still didn't come close and neither did Katie.
Back to the room I went to start getting ready for Formal Night and group photos on the staircase at the Grand Atrium.
Dinner this night was better than the first. And it was unfortunate that this was when the ship was swaying side to side. It was significant motion, but not bad enough to rock the dishes and drinks off the table. Katie and I did not know our tablemates who were all related or friends.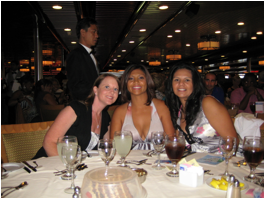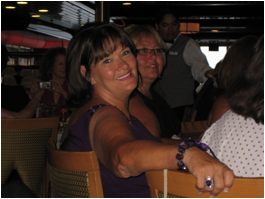 We survived the night without any real issues. Katie's stomach was a little upset after eating, but it was nothing severe.