Every great Cruise Consultant has personal experience with cruising. So this trip served as trip inspections for two ships. The first was on a one-ship cruise line on the Bahamas Celebration. They do 2-day cruises from West Palm Beach to Freeport, Grand Bahama Island exclusively. After that, we spent a night in a hotel in Fort Lauderdale, Florida before boarding Royal Caribbean's new Allure of the Seas for a 2-day pre-inaugural cruise "At Sea." The Allure is the sister ship to the Oasis, both grand mega ships.
On this adventure, I met Sherri Taggart, the owner of Cruise Capers Travel, the agency I work for, and two new friends from Nannette's Cruise Cats travel agency, Nannette Metoyer and Laura Comtois, Sherri's friends of many years.

Tuesday morning, my friend Rudy Escobar was on his way to work at the American Airlines Flight Academy that is just south of Dallas/Fort Worth International (DFW) airport. So, I asked if he'd pick me up and drop me off at the airport so I could catch my 8:15 AM flight number 1394 to Fort Lauderdale, Florida.
When I went to check my baggage, I learned my luggage was ten pounds over the fifty pound limit for a checked bag (even thought I tried weighing it at home), so in addition to the $25 fee, it would cost (they told me) $80 more. Or I could try to rearrange things. I've made it a habit to carry a duffle bag in one of the outside pockets of my suitcase, so I used that to off-load some heavy items from the luggage, then put my purse in to create a new "personal item" that would go with my already full carryon bag.
I really did check my departure gate twice and noted it would leave from Gate A23. When I arrived about an hour early, there was no sign of any flights going to Fort Lauderdale from there. When I checked the bank of monitors with flight schedules, I discovered my flight would leave from terminal D31, across the highway on the other side. I was directed toward the tram that would take me there via another stop in Terminal A and two stops in Terminal B. But, I arrived at Gate D31 with minutes to spare before boarding. After I found my seat 23 F by the window, no one sat in the other two seats next to mine, so it didn't seem so cramped.
The plane sat at the gate, everyone loaded and locked in by their seatbelt and waited some more—past our departure time. The pilot finally made an announcement over the speaker. Apparently, someone had removed the pilots' headsets and they couldn't talk with the tower. Someone else had been sent to get replacements and "we" were waiting for their return to the cockpit.
Before my trip, I had the forethought to purchase a chopped beef sandwich from Spring Creek BBQ. That and some sliced cheddar made a better snack than the chocolate chunk cookie and cheese and cracker packs that American Airlines was peddling.
When Rudy picked me up at 6:30 AM, I was running on about an hour and a half of sleep, so after the plane was in the air I closed my eyes and tried to catch some more. The little I got was more a quasi-sleep that might have added another thirty minutes to my sleep total.
The flight was good except the last thirty minutes that reminded me a little of the Runaway Mine Train at Six Flags, but since I like roller coasters and the pilots had their headsets and could talk with the tower, that was okay.
Sherri and friends were leaving thirty minutes earlier that I did, so I planned to meet them in Fort Lauderdale at 11:50 AM, forty minutes after they arrived. After deplaning and heading for baggage claim, I saw Sherri's smiling face at the bottom of the escalator. She, Nannette, and Laura had arrived from Houston about forty-five minutes earlier, retrieved their bags, and hired a driver to take us to West Palm Beach for our first cruise of the week on the Bahamas Celebration. This was my first time to meet Nannette and Laura, two lovely women, and fellow travel agents for Nannette's Cruise Cats.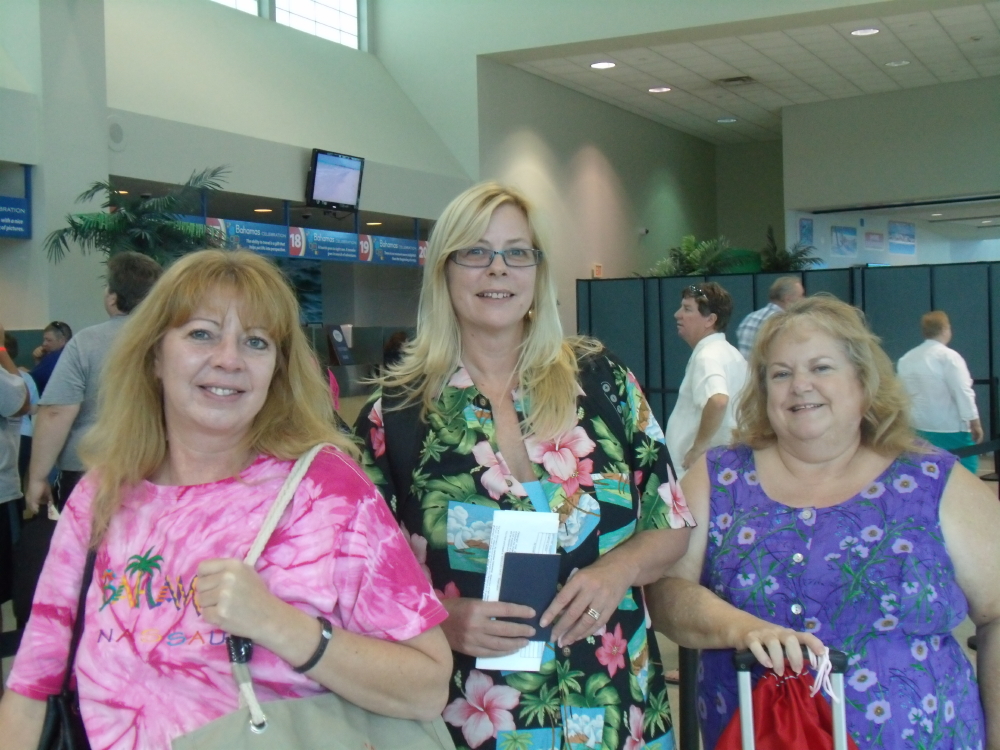 Laura, Nannette, and Bonney.
I had been told this week for me would be with the drinkin', smokin' party people. That, I am not! I was starting to get a little concerned—but not too much.
The ride to West Palm Beach, 41 miles to the north went without a hitch, arriving at the ship around 1:30 PM.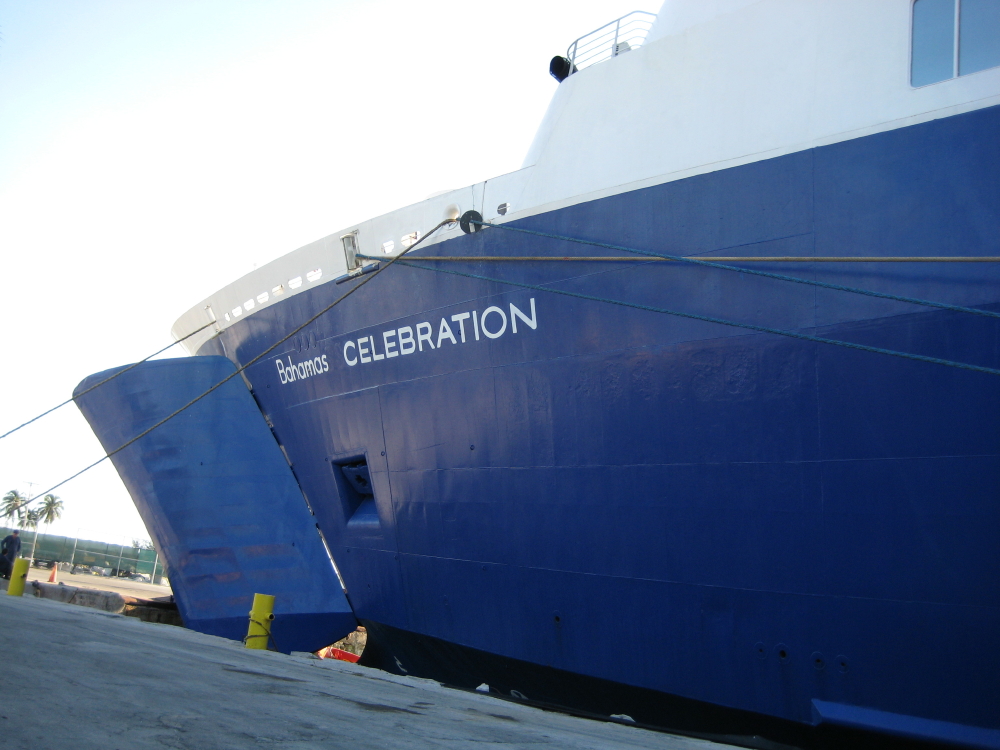 Bahamas Celebration.
On the Bahamas Celebration, Sherri and I were in stateroom 7420 on the Bridge Deck. Nannette and Laura were in stateroom 7422, right next door.
Stateroom 7420
Stateroom 7422

Bonney Bott

Sherri Taggart

Nannette Metoyer

Laura Comtois


Bahamas Celebration.
This ship is about one-third the size of the ships I've been sailing on. Because of the lower traffic level or because they wanted repeat business, the baggage and security people at the terminal seemed friendlier. Another noticeable difference at this terminal was the opportunity to sign up for shore tours, dinnertime, and other options along the path to the ship. These features are not available ahead of time from their website, which is not as user friendly as it could be. But, I digress.
The Bahamas Celebration was a cruise ferry built in 1981 and extensively converted into a cruise ship in 1992. The Celebration has an 892-person capacity. The ship décor was nice and there was no "old ship odor." They had done well in their conversion. It reminded us of cruise ships found in older movies.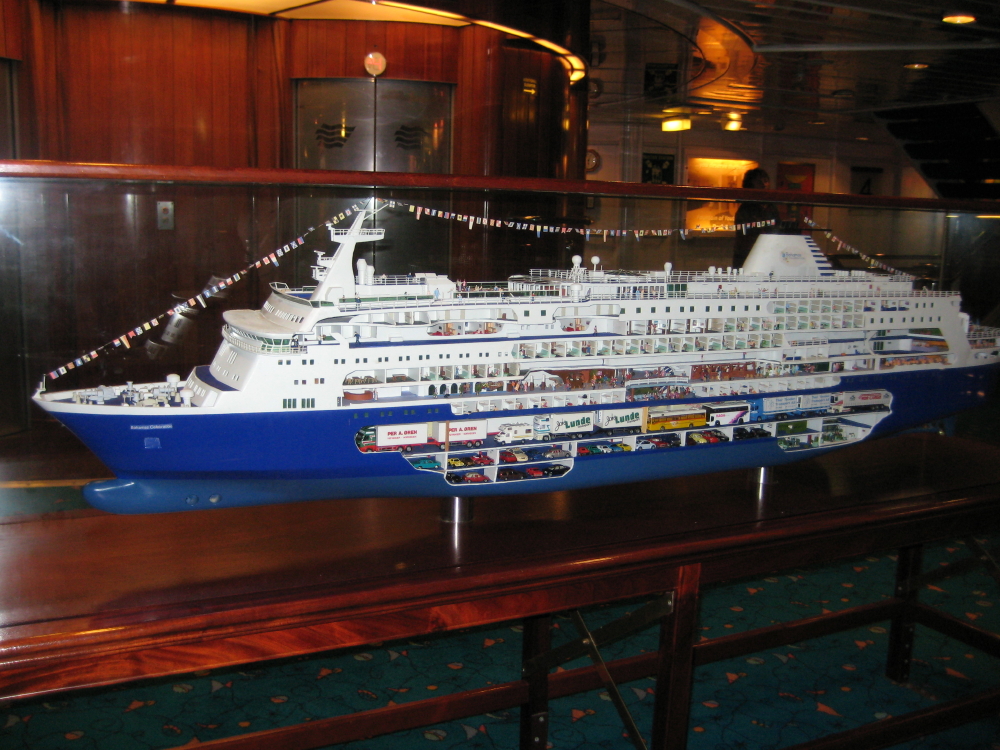 Model of the Bahamas Celebration when it was a cruiseferry.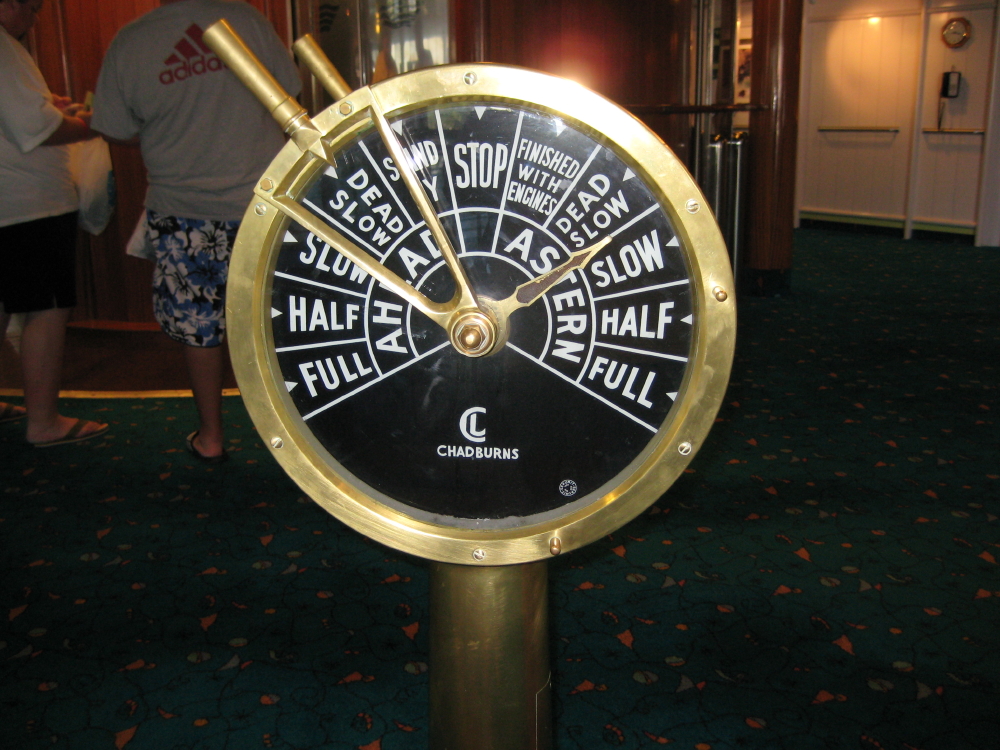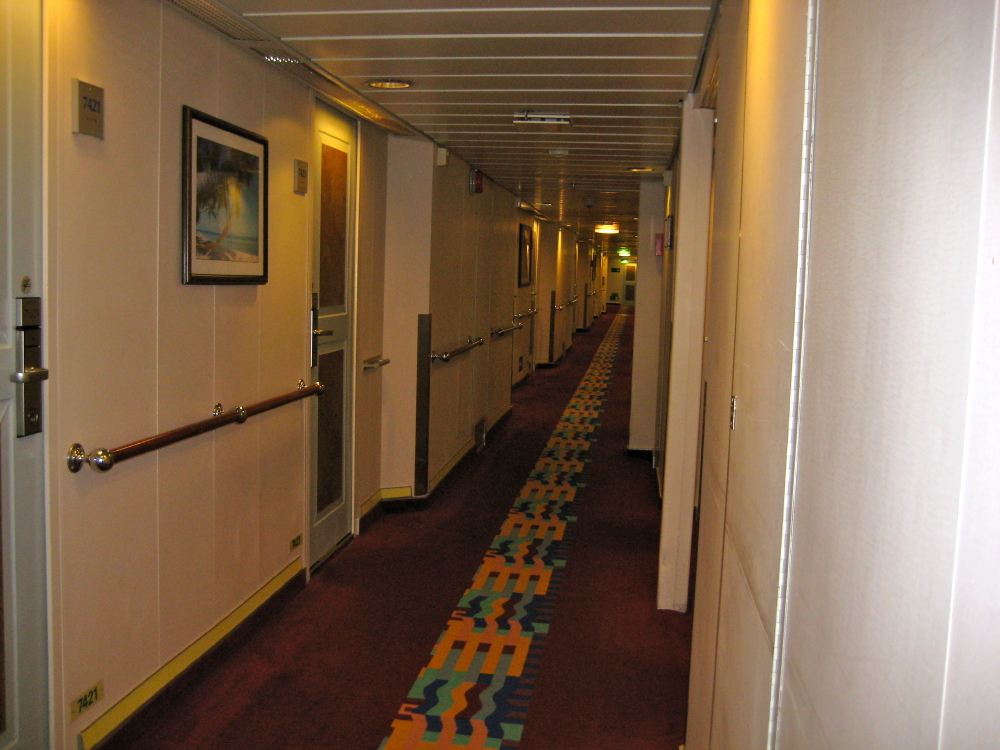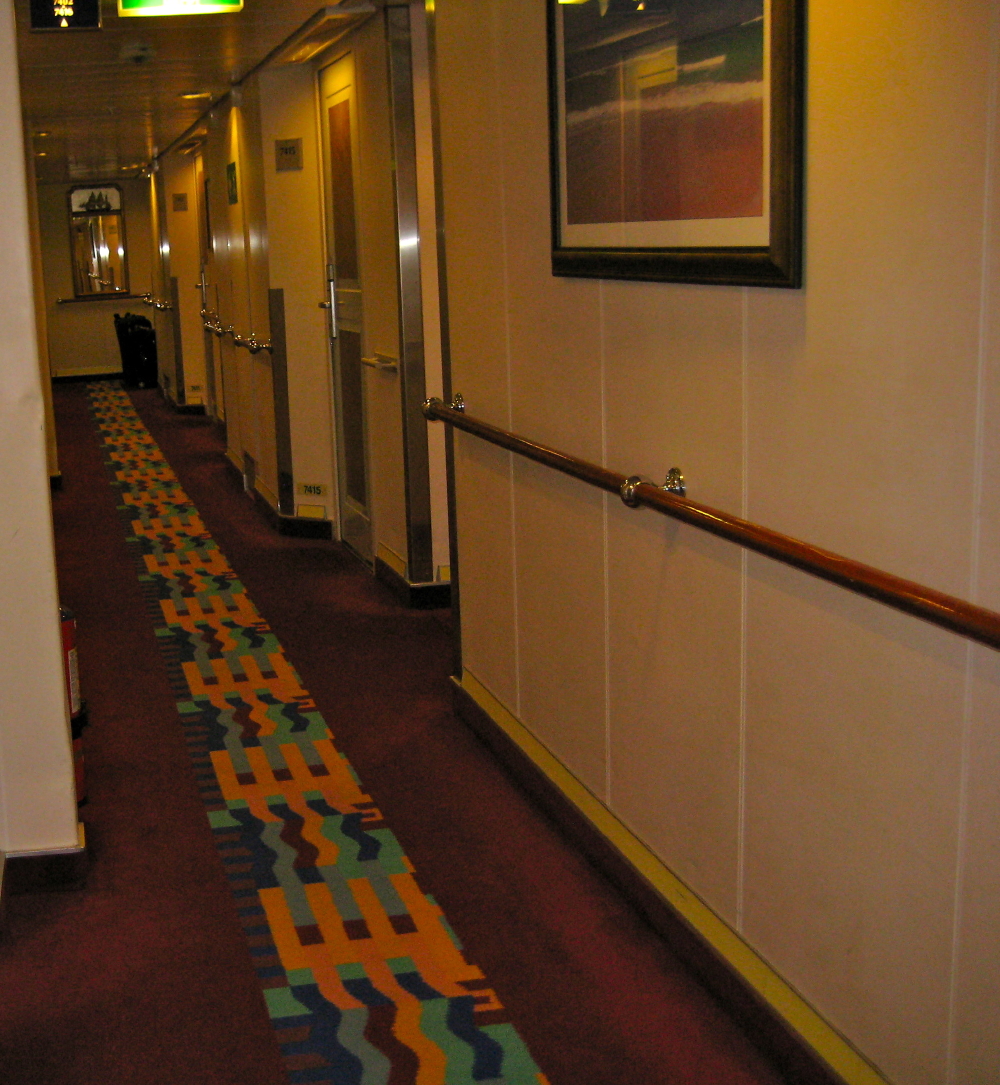 When we arrived at our cabin...
One noticeable thing that was that the power in the rooms was still 220V, but converters were available from guest relations, along with hair dryers with 220V plugs. There was no safe in the room. While the twin-sized cots were comfortable, the frame on the side of the mattress made it difficult for a short person to get in and out of bed when the feet don't meet the floor. In other words, the bed is too tall for a short, fat old lady. The open design of one of the two closet areas, and the angling of the bathroom wall going into the room gave a feeling of spaciousness.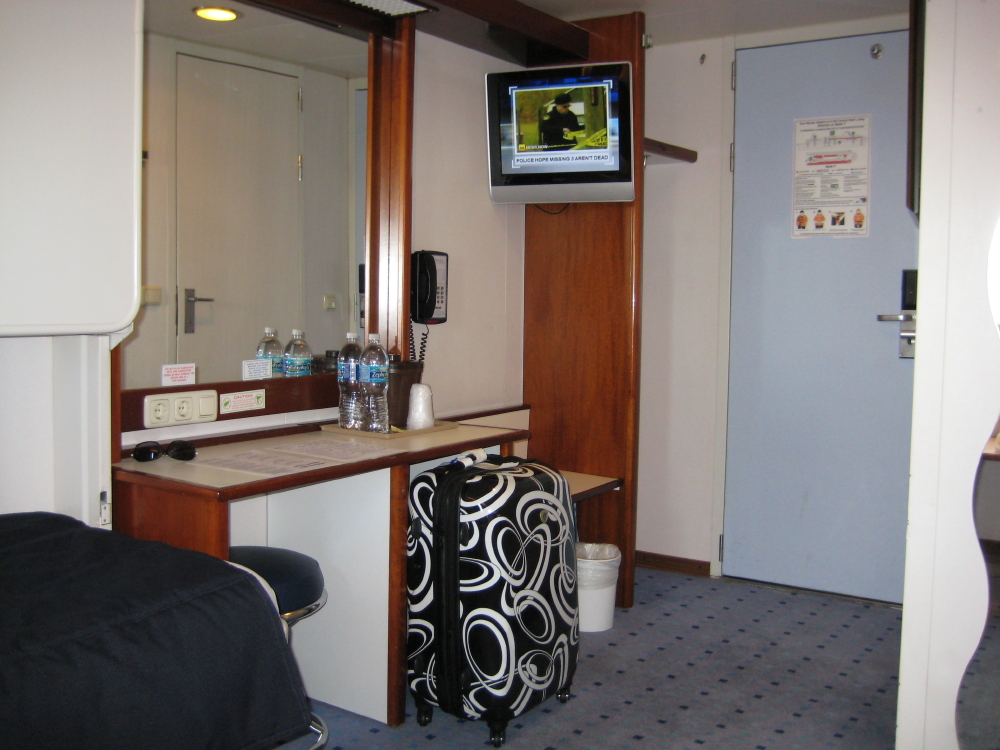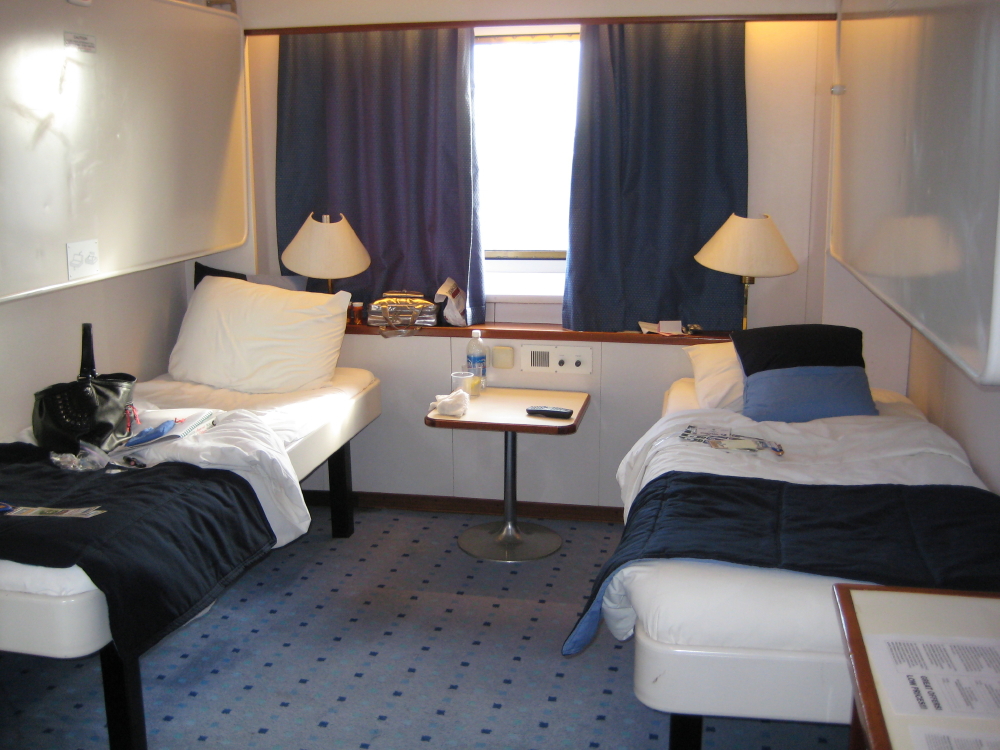 The ocean view cabin measured 21 by 14 heel-toes (the length of my feet) that calculates to about 199 sf., give or take a couple of toes.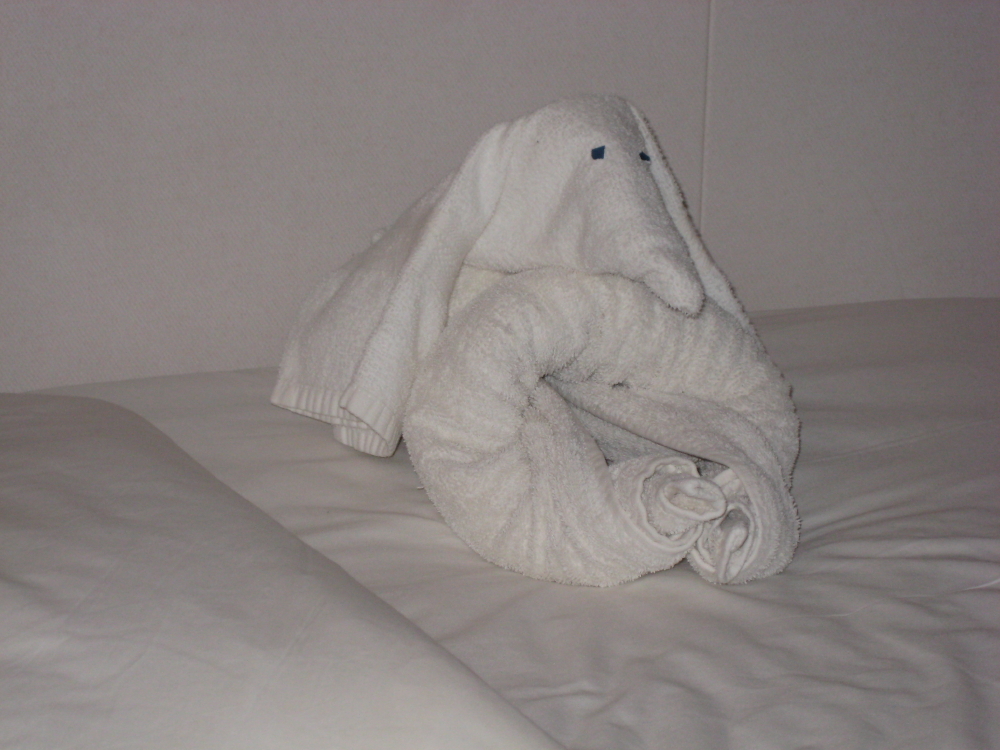 Although we knew the room steward was working because the dirty towels were replaced, we found our towel animal, and the beds turned down each night while we were out of our rooms, we never met him/her either day.
The buffet lunch served poolside was not impressive, so I was concerned about dinner and the other meals in general. All was forgiven when I found the parlor with free ice cream.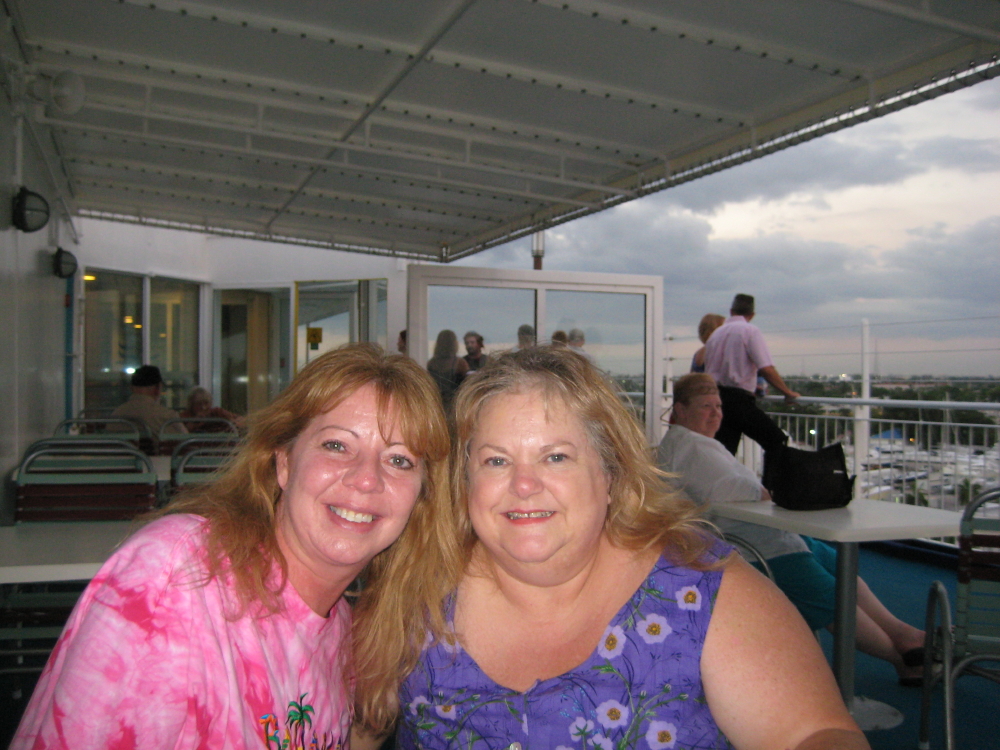 Free pizza was available almost anytime you wanted it.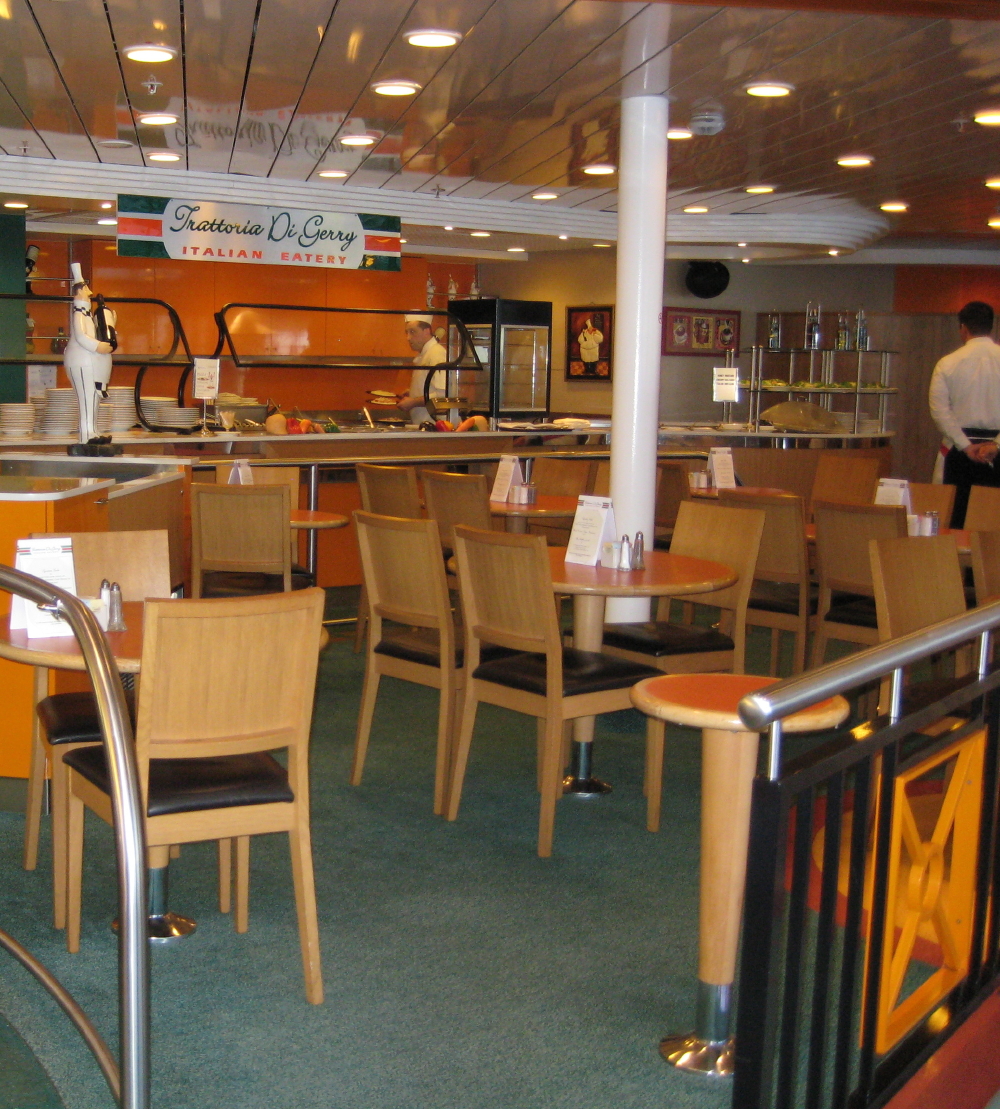 Because this was a small ship and we were only on a two-day cruise, passengers were allotted one evening in the Crystal dining room and one in Rio's Restaurant. A more formal dining experience at additional cost was also available. We later learned the evening fare was the same in both places. This evening was our night for early dining in the Crystal dining room. Our dinners were excellent and our dining companions, fun.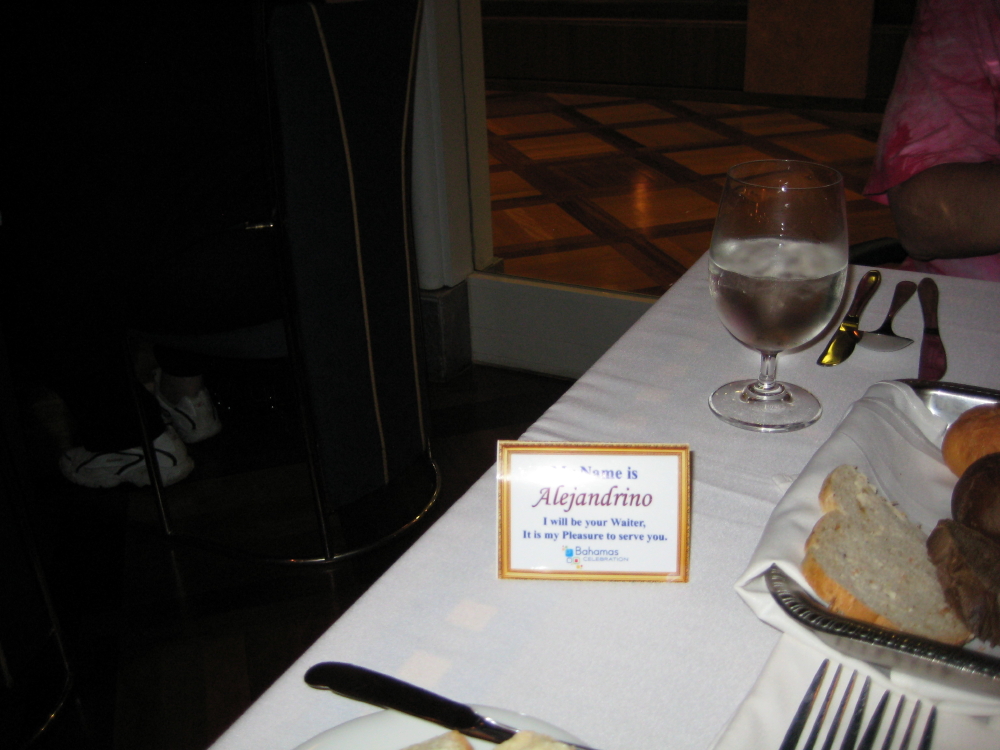 While I judge some places by their ice cream and pizza, my other three companions judge by the casino, bars, and smoking areas. As often the case, mixed drinks and sodas were available at extra cost. It didn't take Sherri long to discover that while playing in the casino, the mixed drinks were free. She's really good at scoping out the deals!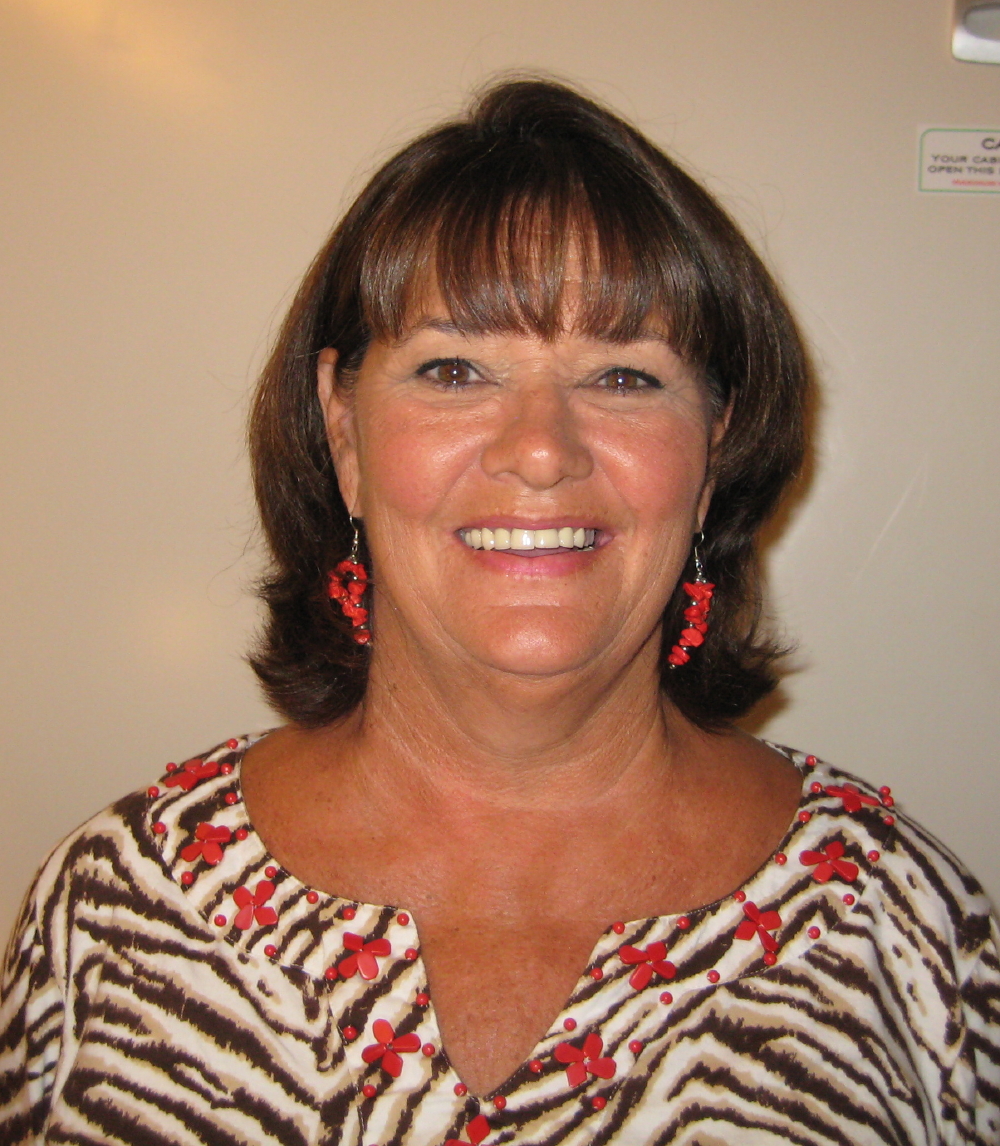 There were a couple of Internet areas, one with an outside view.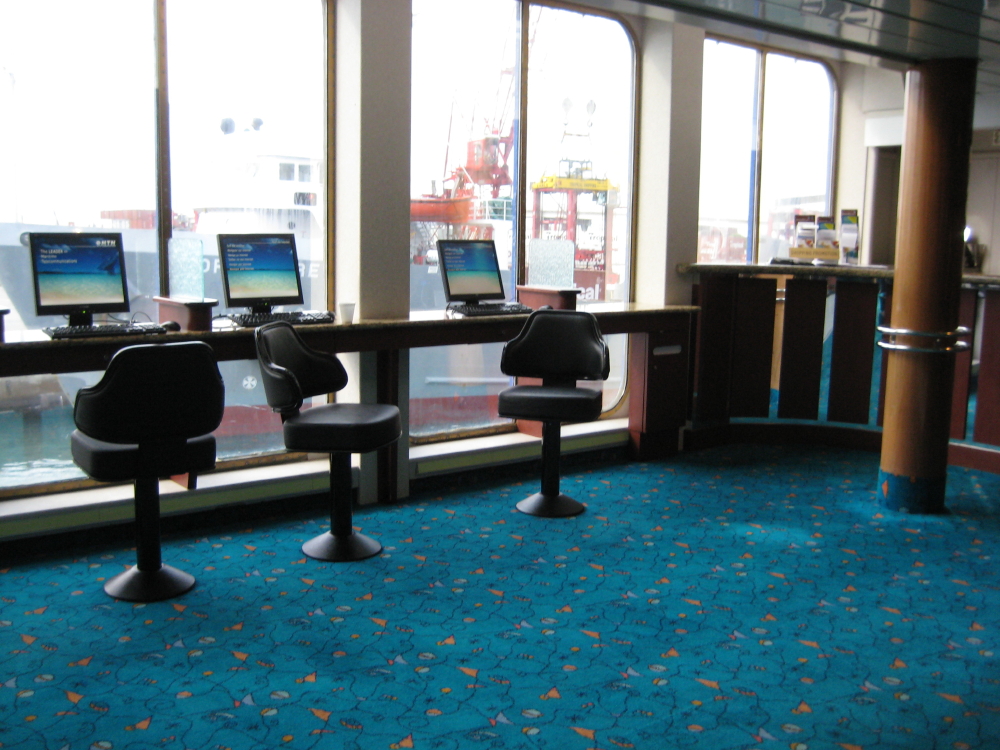 The one thing I really disliked was the "mandatory" gathering before we set sail that was to tell a little about shopping in the Bahamas, the shore tours available, and the majority to peddle the ship's wares. Normally, I would have ignored it like Sherri, Nannette, and Laura did, but I wanted to see how intrusive it would be. T he ONE piece of useful information was to carry a photo ID, as well as our cruise ID when getting off the ship.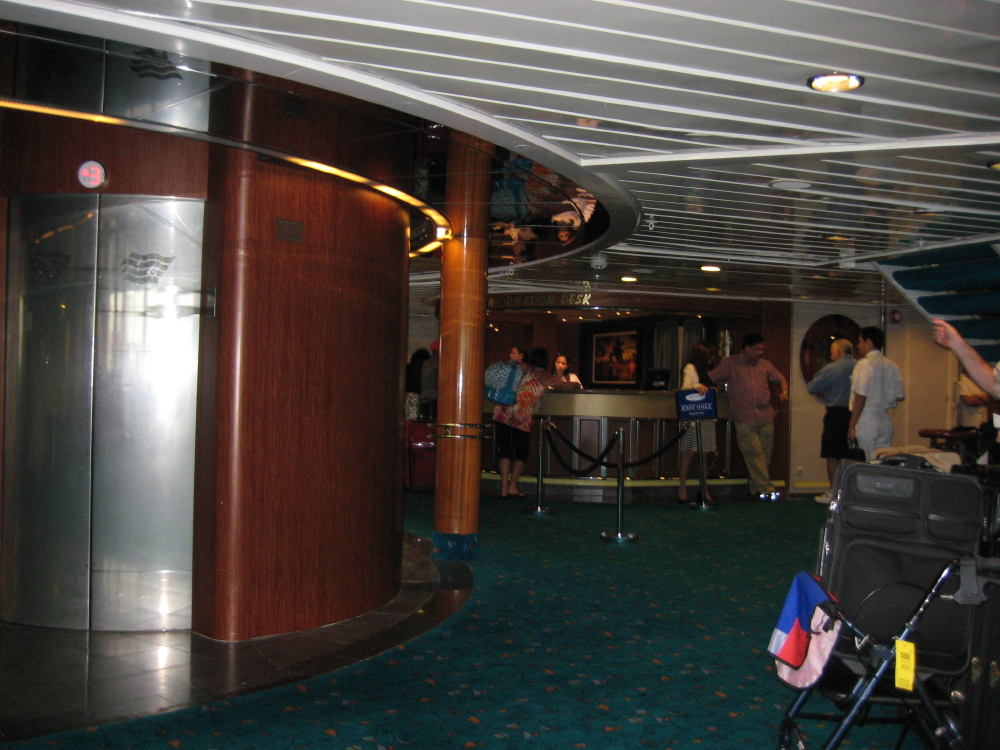 Because of my lack of sleep the previous night, it was an early night to bed for me—an almost unheard of sleep time before midnight.
---
Page 1 Page 2 Page 3 Page 4 Page 5 Page 6 Page 7 Page 8 Page 9