When we woke up in the morning, we were docked back in West Palm Beach where we started.
After our disembarkation from the Bahamas Celebration, we had plenty of time to return to Fort Lauderdale, where we would spend the night at Comfort Suites. We had decided to take the scenic route south on Highway A1A. To do so, a rental car had been reserved at the airport Dollar Rental agency, nine miles away. To get there, we had to take a taxi from the pier.
Not every person in a service industry is good at his job. That was never more evident than our taxi driver on our ride from the port to the Dollar Rental car agency near the airport. The driver didn't know where he was going and purposely drove slowly. Our 9-mile drive ended up costing us about $52!
You'd think with four A-type personality travel agents, we could at least verbally beat up someone we thought was taking advantage of us. I guess this day we were all on good behavior.
Nannette had made the arrangements for the mommy van we got, one of the few vehicles that would hold all of our luggage without inconveniencing our riding style. We were on our way before discovering we had checked out the van about 10:30 AM and they wanted it returned in Fort Lauderdale around 9:45, not giving us our full 24-hour rental. So, Laura called and had the rental office correct our paperwork for the return to be by 10:30 the following day. Yea, Laura!
Our plan with the rental car was to return to Fort Lauderdale via a leisurely drive past the swanky homes between the ocean and the coastal waterway. These little white egrets (I think) below walked around like grackles do in Texas.
We arrived at our hotel and checked into two lovely large suites, got the two air conditioners in each suite cranked up.
Following a brief rest, we took our rental mommy van for a late lunch at the 15th Street Fisheries & Dockside Café where we sat at a table outside.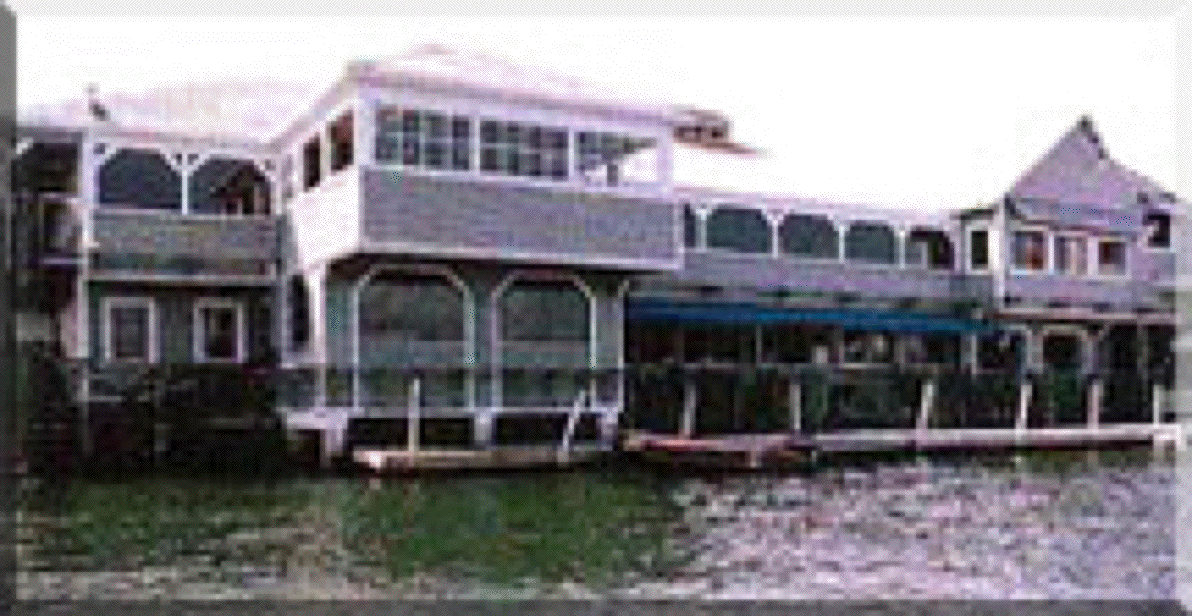 After dining, Sherri and Nannette got some food to feed some nice sized fish in the water below our table at the rail. Although the second photo doesn't show it, the big red X is where a large tarpon was snatching at his share of the food.
After our late lunch and the rousing fish feeding frenzy, along with experiencing the thieving seagull, we caught the water taxi that stopped at the pier.
Riding in the water taxi was like taking a tour of Lifestyles of the Rich and Famous. We only thought the yachts in West Palm Beach were grand. And to accommodate these, this drawbridge gets regular exercise.
Here are a few of the homes and yachts.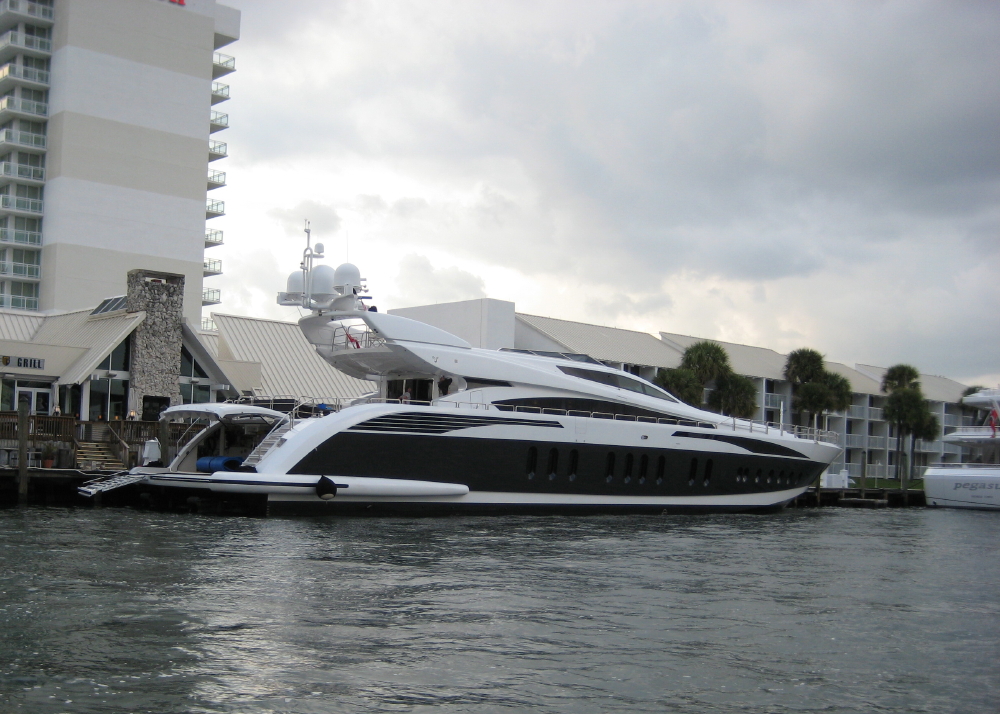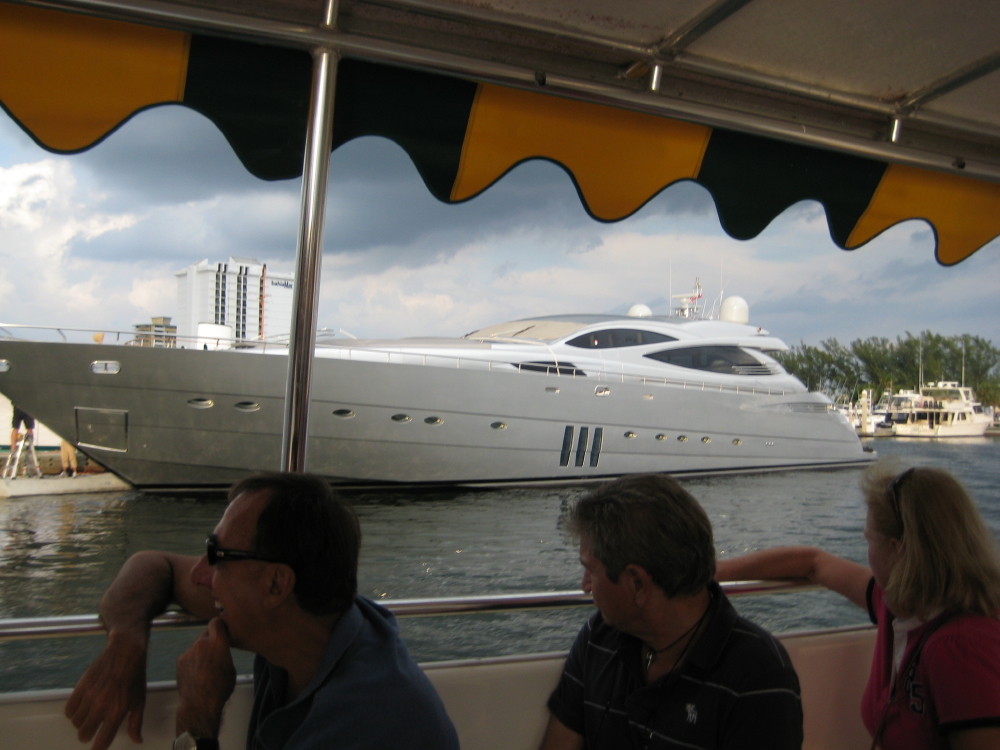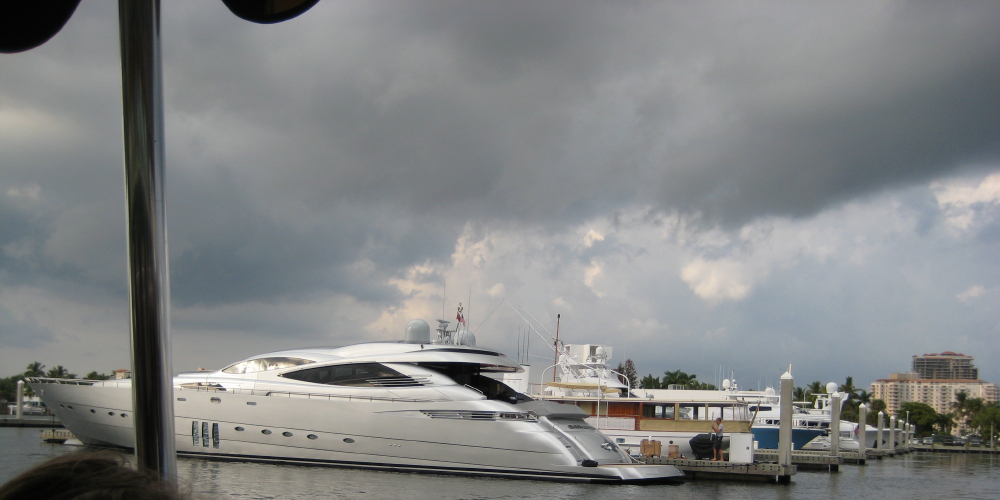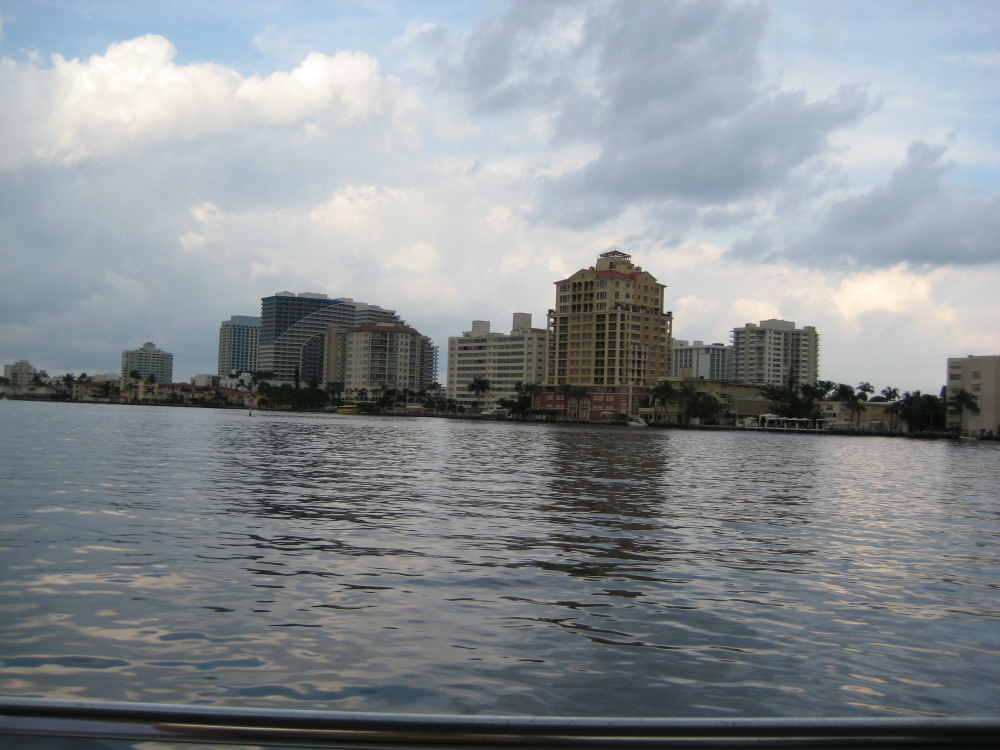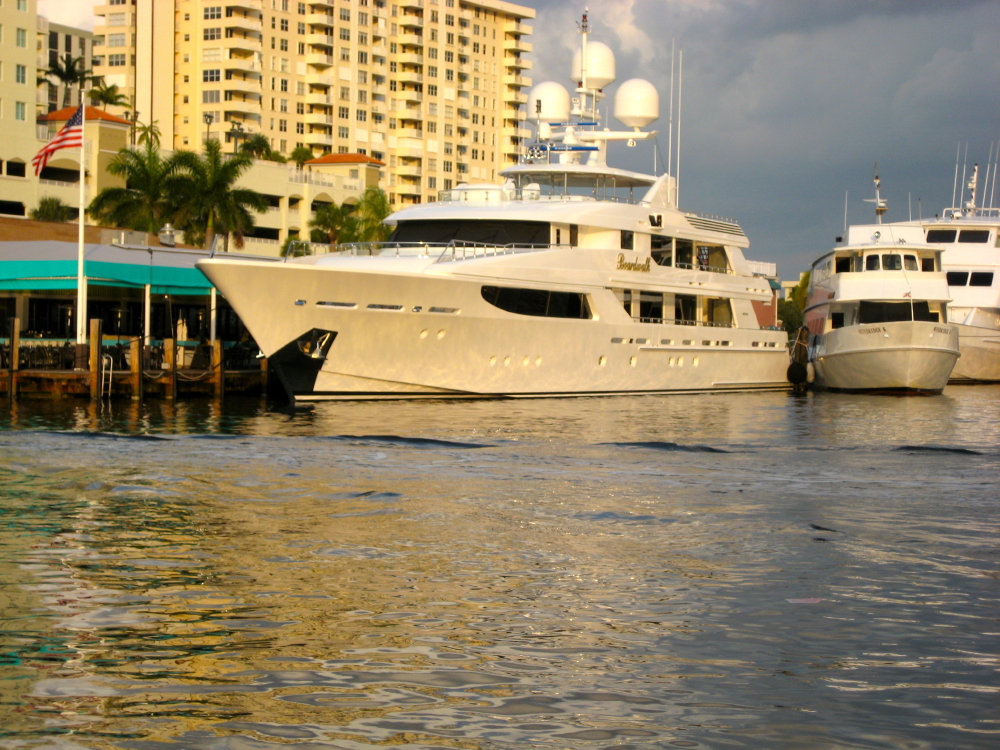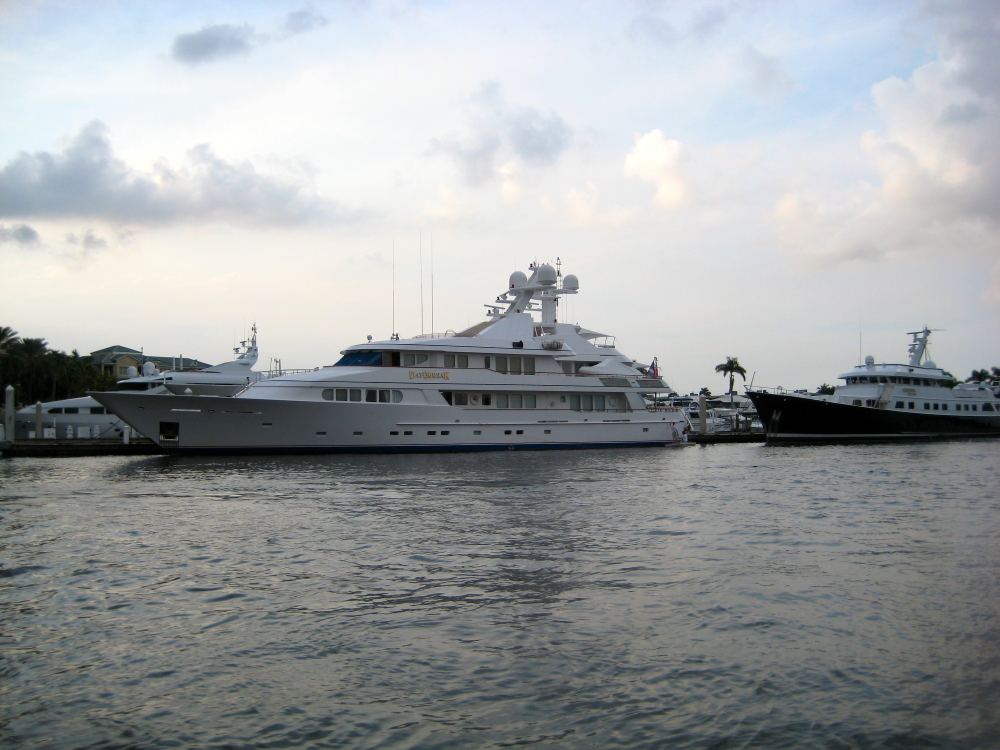 And then, there were more birds!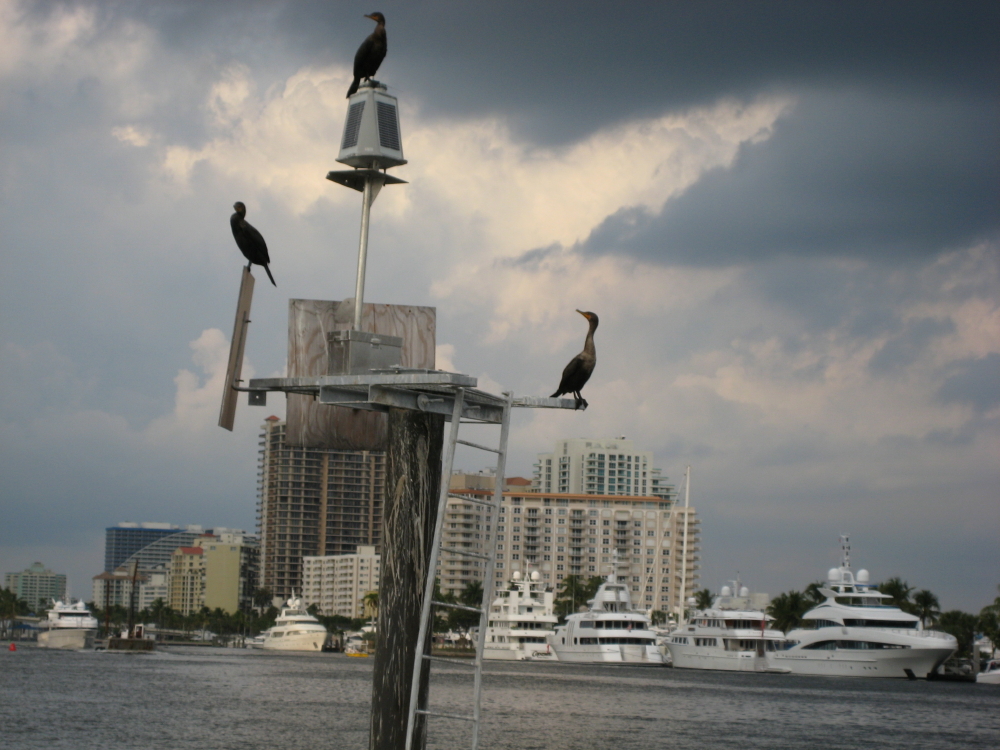 We probably saw a billion dollars worth of boats and the homes cost even more. One of the overpass support piers had a large iguana that had become accustomed to eating an apple that the taxi driver provided on his way by.
Sherri, Nannette, and Laura stopped off at taxi stop #1 for drinks and to smoke a cigarette, with plans to catch the next water taxi. I continued back to the 15th Street Fisheries Café at taxi stop #8, about an hour's ride away, with plans to meet them at our rental car (that I had the keys to) in the 15th Street Fisheries Cafe.
A little more than an hour later, when I expected them to return to 15th Street, Sherri called to let me know the next taxi had not come, but was broken down, so they took a real taxi back instead. I offered to pick them up, but because the rental was in Nannette's name and because I didn't know which streets went around the waterways, they thought a taxicab would be more efficient. Laura later called the water taxi service and convinced them to refund each of us our $15 fare, even though I wasn't trying to catch the incapacitated water taxi, we were all inconvenienced. Yea, Laura! Girl Power.
We made it back to our rooms, PJed up, and played a couple of rounds of Skip-Bo. I was multi-tasking and loading some software on Sherri's new MacBook Pro computer. Laura and Nannette returned to their suite up a floor and we all got a good night's sleep in preparation for boarding our next ship.
---
Page 1 Page 2 Page 3 Page 4 Page 5 Page 6 Page 7 Page 8 Page 9